The Five Boroughs (Boca Black Box- Boca Raton)
This article first appeared on 5/18/18. I just checked the Boca Black Box- box office (bocablackbox.com) and there are some really good seats left for The Five Boroughs' – Thursday, July 12th, 2018 (8pm) show! I also just checked goldstar.com (discount tickets) which on 5/18/18 had tickets listed- it now has "Sold Out" listed! Jeff Eats and Mrs. Jeff Eats are gonna be there- and I'm kinda thinking (actually I'm kinda knowing-as I've seen the group several times) that you doo wop fans out there will really enjoy seeing this group in action!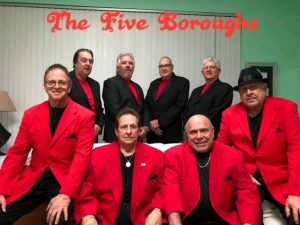 Posted on May 18th, 2018
***** The Five Boroughs.
Gotta a real good show for you Doo Wop fans…
The Five Boroughs
Thursday, July 12, 2018 (8pm)
Boca Black Box
8221 Glades Road Suite #10,
Boca Raton, Florida 33434
Box Office: 483.9036
Tickets: bocablackbox.com check goldstar.com for discount tickets
from bocablackbox.com

Formed in 1986 in South Florida by singer Frank Iovino to carry on the tradition of the harmony vocal groups of the 1950s and 1960s, the Five Boroughs consisted of several transplanted New Yorkers, many of whom were longtime veterans of the doo wop circuit. The first official group lineup included Iovino, Charlie Notabartolo (formerly of the Casual-Aires), Bruce Goldie (the Dreamers), Dave Strum (the Excellents), and Geno Radicello (the Bowery Boys). This unit recorded an EP for Telemedia Records in 1986, notable for bringing synthesizers and drum machines into the doo wop equation, then followed up with two a cappella tracks, "Sunday Kind of Love" and "For Your Precious Love/For Your Love," for Avenue D Records in 1987, and a third, a cover of the Cleftones' "See You Next Year," in 1988.
The group was signed to Classic Artists Records in 1990, and quickly issued two singles, "Apart" and a version of the Flamingos' "A Kiss from Your Lips," before releasing a full-length album on the label, Count Every Star, in 1991. The Five Boroughs' second album, Heart's Desire, was issued by Starlight Records in 2000. The group's most recent lineup has grown to seven members, with Steve Ward, Johnny Sorrentino, and Jimmy DellaRosa joining original members Iovino, Strum, Goldie, and Notabartolo. A popular live act, the group performs with its own band, the Five Boroughs Band, with Vic Giardino on guitar, Tim Myer on bass, Joe Costadura on drums, Earl Catron on sax, and Wayne Muscarella on keyboards. A brief overview of their recorded work, Doo Wop Under the Palms, was released by Collectables in 2005.