DISH OF THE WEEK (Sunday- 7/8/18- Wallmart Supercenter)
***** DISH OF THE WEEK (Sunday- 7/8/18- Walmart Supercenter).
One of Jeff Eats' favorite menu items…
GREAT VALUE NEAPOLITAN ICE CREAM SANDWICHES
$3.00 (3.5oz- 12 count)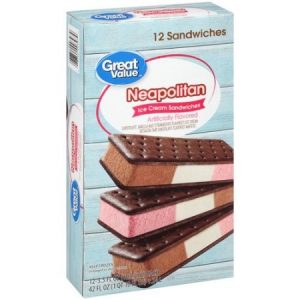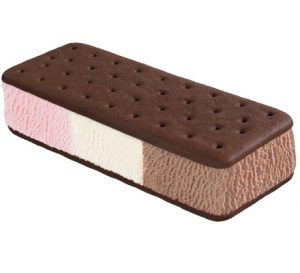 walmart.com
Latest Review: None
Walmart's "house brand" Great Value- Neapolitan Ice Cream Sandwiches are delicious. For the math challenged out there, at $3 per box (12 sandwiches)-means that each sandwich costs 25 cents!
For you guys out there who are allergic to chocolate (or for that matter just don't like chocolate)- checkout Great Value Sugar Cookie Crash Ice Cream Sandwich- trust me, delicious vanilla ice cream between 2-sugar cookies. A box of 6 sandwiches will will set you back $4.88. Also checkout Great Value Sea Salt Caramel Ice Cream Sandwiches- a box of 12 sandwiches costs 3 bucks.