Florida's Natural Lemonade (Winn-Dixie – Boca Raton)
***** Florida's Natural Lemonade.
Last night- Jeff Eats came across Florida's Natural Lemonade (59 fluid ounces) while shopping at Winn-Dixie, 7024 Beracasa Way, Boca Rston, Florida 33433, (561) 368-5442 and I gotta tell you guys absolutely delicious! By the way, the lemonade's $2 price-tag wasn't too shabby either!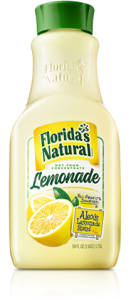 Like I said, I got mine at Winn-Dixie in Boca Raton. You can check floridasnatural.com for a list of Florida retailers.
Story Kicker– 100% of the manufacturer's profits are donated to Alex's Lemonade Stand Foundation- a childhood cancer charity, which I'm telling you guys that you absolutely must checkout- alexslemonade.org.
from floridasnatural.com
Florida's Natural Growers
A Division of Citrus World, Inc.
20205 US Highway 27 North
Lake Wales, Florida 33853
(863) 676-1411
Lemonade
Not too sweet. Not too sour. Refreshing with every sip. Give our Lemonade a try and we'll donate 100% of the profits from your purchase to Alex's Lemonade Stand Foundation.
Nutrition Facts
11% Lemon Juice
Serving Size 8 fl oz (240 mL)
Servings Per Container about 7
Amount Per Serving and % Daily Value*:
Calories 110
Total Fat 0g 0%, Sodium 10mg 0%,
Total Carbohydrate 28g 9%, Sugars 27g, Protein 0g.
Not a significant source of calories from fat, saturated fat, trans fat, cholesterol, dietary fiber, Vitamin A, Vitamin C, calcium and iron.
*Percent Daily Values are based on a 2,000 calorie diet.
Ingredients
Water, Lemon Juice, Sugar, Natural Flavors.
No HCFS or artificial flavors, colors or preservatives. Ⓤ