HIPPIFEST 2018 (Parker Playhouse- Fort Lauderdale)
This article first appeared on 4/30/18. This morning, goldstar.com put $47.50 tickets on sale priced at $27. I just bought 2 tickets.
Posted on April 30th, 2018
* HIPPIFEST 2018.
Just between you guys and Jeff Eats, I'm kinda thinking that "they" aren't gonna be beating down the doors to see this lineup! Between you and me, pricing tickets at $77.50/ $67.50/ $47.50 is absolutely absurd…That said, as we get closer to the show's date (for old times' sake) I'm probably gonna pick-up a couple of tickets (which I'm betting are gonna be discounted).
Just announced…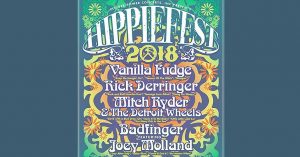 The Skinny…
HIPPIFEST 2018
Sunday, August 5th, 2018 (6pm)
Parker Playhouse
707 Northeast 8th Street
Fort Lauderdale, FL 33304
Box Office: 954.462.0222
Tickets: parkerplayhouse.com
Tickets On Sale Thursday, May 3, 2018 at 10 AM