The Righteous Brothers (Parker Playhouse- Fort Lauderdale)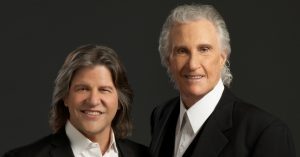 * The Righteous Brothers.
Hey! I know that Bobby Hatfield passed away on November 5, 2003!
Read, Watch, Listen…
The Skinny…
The Righteous Brothers
Thursday, January 17, 2019 (8pm)
Parker Playhouse
707 Northeast 8th Street
Fort Lauderdale, Florida 33304
Box Office: 954.462.0222
Tickets: parkerplayhouse.com
Tickets On Sale Thursday, June 28, 2018 at 10am
from righteousbrothers.com
* Las Vegas, March 23, 2016- BILL MEDLEY TAKES ON NEW PARTNER
* The Righteous Brothers, that original "blue-eyed soul", are back at Harrah's Las Vegas. In addition, the group is thrilled to announce that their 2017-2018 schedule has just been released which includes an extended residency inside the beautiful Harrah's Showroom, beginning February 7, as well as rapidly growing touring schedule!
Join Rock and Roll Hall of Famer, Bill Medley and his new partner Bucky Heard, as they take you on a nostalgic journey through the legendary musical stylings of one of the greatest rock and roll duos of all time.
Book your tickets today for this once in a lifetime experience, featuring timeless classics and endless memories, and get ready to have the "Time of Your Life"!
Rock and Roll Hall of Fame duo The Righteous Brothers topped the charts in four decades. Now, Bill Medley joins forces with one of the most versatile vocalists in America, Bucky Heard, to bring the Righteous Brothers back to the stage.
The Righteous Brothers concert experience features a string of their biggest #1 hits, including You've Lost That Lovin'Feelin'( the most played song in radio history), Soul & Inspiration, Unchained Melody, Rock and Roll Heaven, Medley's Grammy-winning Dirty Dancing theme The Time of My Life, and much, much more!