Rip's Sports Bar & Grill Presents- BIG CITY DOGS (Pompano Beach)
* Rip's Sports Bar & Grill Presents- BIG CITY DOGS.
Just in case you guys were wondering what Jeff Eats, Mrs. Jeff Eats and a bunch of our friends are doing tonight- Decent enough bar food and one of South Florida's best "Classic Rock" bands…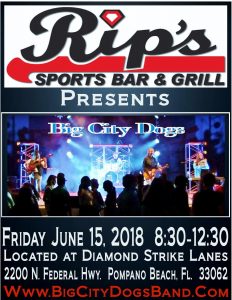 Posted on July 9th, 2015
***** Rip's Sports Bar & Grill, 2200 North Federal Highway, Pompano Beach, Florida 33062, (954) 941-0968.
First things first, Rip's Sports Bar & Grill is located in Diamond Strike Lanes (yeah! a bowling alley) in Pompano Beach.
Just between you guys and Jeff Eats…if you're into listening to & partying with some of South Florida's best bands, Rip's is a joint that you definitely want to know about! On Thursday, Friday and Saturday nights Rip's has live bands (no cover)- the lineup is eclectic- so be smart and checkout its monthly calendar (diamondstrikelanes.com)…July, 2015's is printed down below.
Jeff Eats and Mrs. Jeff Eats (don't tell the Eats- kids) have spent a good number of nights there and I gotta tell you, we've always had a great time! The joint isn't "big" but it does have a full bar area (real reasonable prices), something like 30 tvs, indoor/outdoor seating…and as you can see from the down below menu, enough- reasonably priced/decent "bar food" so everyone will find what to eat! For-you guys who maybe wondering and I know who you are…the cheeseburger ($8.99-comes with French fries), the grilled parmesan wings (10-$9.99) and the prime ribs sliders (3-$10.99) are real strong!
Try Rip's…you'll like it!
from diamondstrikeslanes.com
RIPs_musicOver 30 tv's for your viewing pleasure
~ Happy Hour
~ Karaoke Wed nights from 7:30 pm – 11pm
~ Live bands Thursday nights from 8pm – 12 midnight
~ Live bands Friday and Saturday nights from 9 pm – close
~ Excellent food prepared by our Chefs
———————
Posted on April 2nd, 2017
* Big City Dogs.
Last night, Jeff Eats and Mrs. Jeff Eats caught "Classic Rock" band- Big City Dogs at Rip's Sports Bar & Grill (Diamond Strike Lanes Bowling Center), 2200 North Federal Highway in Pompano Beach and the Big City Dogs absolutely killed!
For years, Jeff Eats has heard nothing but- terrific things about the Big City Dogs- and last night, I finally got the chance to see them in action- all I can tell you guys, is that you Classic Rock fans gotta go see this band!
The Big City Dogs play clubs/bars/festivals/events/casinos all over south Florida. You can check the band's schedule/videos/info – at bigcitydogsband.com.