BOY GEORGE & CULTURE CLUB THE B-52S AND THOMPSON TWINS' TOM BAILEY (Pompano Beach Amphitheater- Pompano Beach)
This article first appeared on 3/20/18. Just got a groupon.com email- it's got loads of discount tickets for this concert.
Posted on March 20, 2018
* BOY GEORGE & CULTURE CLUB, THE B-52S AND THOMPSON TWINS' TOM BAILEY.
Just announced…
Jeff Eats and Mrs. Jeff Eats are going…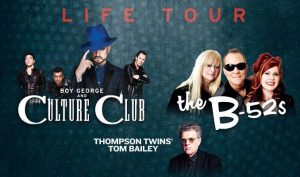 from pbamp.com
This Summer's Hottest Tour:
The Life Tour: starring Boy George & Culture Club and The B-52s with special guest Thompson Twins' Tom Bailey at The Pompano Beach Amp
ANNOUNCE: March 20, 10am
PUBLIC ON SALE: Friday, March 23, 10am
CONCERT DATE: July 1, 2018 6:30pm
TICKETS: $49.50 -$149.50 plus applicable fees, www.pbamp.com or www.axs.com (NOTE NOT TICKETMASTER). Tickets can also be purchased at our box office located inside the Pompano Beach Cultural Center at 50 W. Atlantic Blvd, Pompano Beach. M-F 10am-6pm
Grammy Award-winning legends Boy George and Culture Club have revealed plans for a major 2018 U.S. headline tour with the multi-platinum selling band The B-52s. Announced today, The Life Tour: starring Boy George & Culture Club and The B-52s with special guest Thompson Twins' Tom Bailey. AEG Presents is proud to bring this phenomenal concert to The Pompano Beach Amp on July 1.
"We put together an amazing show that is going to be filled with hits and fabulous memories, we know it will be hands down this summer's best night out," said Boy George.
Since their inception in 1981 Culture Club have sold more than 50 million records worldwide, including such classic hits as, "Do You Really Want to Hurt Me," "Karma Chameleon," and "I'll Tumble 4 Ya." The group is fronted by British singer/songwriter Boy George, who is universally recognized as one of music's iconic artists. George was recently presented with the Ivor Novello lifetime achievement award in 2015 for his contribution to the music industry. Roy Hay, Mikey Craig and Jon Moss make up the remaining original line up set to tour. Their recent shows have garnered rave reviews from the press since reforming: "Culture Club is …"a true show band, with a master at its center. If you like to go out, if you like to feel good, if you like to be transported by music, if you're in search of authenticity in a land inundated by fake, …then this is your gig!" – critic Bob Lefsetz (review of 2015 show at The Greek Theatre)
It is well known that the B-52s are The World's Greatest Party Band. And nearly forty years and over twenty million albums into their career, there can be no doubt as to why they remain one of rock music's most beloved and enduring bands. Any mystery concerning the band's longevity and ongoing appeal is immediately solved when exposed to a B-52s concert experience. From groundbreaking songs like "Rock Lobster," "Dance This Mess Around" and "Private Idaho" to chart-topping hits like "Love Shack" and "Roam" and "Deadbeat Club" to their thrilling reemergence on the pop scene with their 2008 CD Funplex the B-52s' unforgettable dance-rock tunes start a party every time their music begins.
Formed on an October night in 1976 following drinks at an Athens, GA, Chinese restaurant, the band played their first gig at a friend's house on Valentine's Day 1977. Naming themselves after Southern slang for exaggerated 'bouffant" hairdos, the newly-christened B-52s (Fred Schneider, Kate Pierson, Keith Strickland, Cindy Wilson and Ricky Wilson) began weekend road trips to New York City for gigs at CBGB's and a handful of other venues. Before long, their thrift store aesthetic and genre-defying songs were the talk of the post-punk underground. A record deal soon followed and their self-titled debut disc, produced by Chris Blackwell, sold more than 500,000 copies on the strength of their first singles, the garage rock party classic "Rock Lobster," and "52 Girls." The B-52s began to attract fans far beyond the punk clubs of the Lower East Side — galvanizing the pop world with their 'stream-of-consciousness' approach to songwriting and outrageous performance. They had clearly tapped into a growing audience for new music that was much larger than anyone could have anticipated.
For nearly three decades fans of the Thompson Twins have been waiting for more live performances from one of the most iconic bands of the eighties. Now The Thompson Twins' Tom Bailey, with a new band, will be touring and performing the Thompson Twins hits.
Following a successful first festival performance in the UK in August 2014 in front of 20,000 people, Tom Bailey went straight into a highly successful 17 date headlining tour of the USA. The US tour included Tom making a special guest appearance on the Tonight Show with Jimmy Fallon and playing to a 4000 strong audience at LA's legendary Greek Theatre.
The Thompson Twins' Tom Bailey features Tom Bailey on vocals, keyboards, guitar, harmonica and percussion. His all-female band feature Charlotte Raven on vocals and keyboards, Amanda Kramer (The Psychedelic Furs/Information Society) on vocals and keyboards and Paulina Szczepaniak on electronic drums.