Frank Caliendo (Palm Beach IMPOV- West Palm Beach)
* Frank Caliendo.
The legendary impressionist is scheduled…
Palm Beach IMPROV, 550 Rosemary Avenue, West Palm Beach, Florida 33410…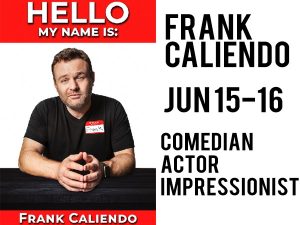 Friday- 6/15/18- 7:30pm
Saturday- 6/16/18- 7pm & 9:30pm
Box Office: (561) 833-1812
Tickets: palmbeachimprov.com
If you haven't seen Frank Caliendo- go see him! The man puts on a great show!
By the way, the IMPROV's food is real good and reasonably priced! So plan on an eating/drinking/laughing night!