The Who's Tommy (Boca Black Box- Boca Raton)
* The Who's Tommy.
Years ago- Jeff Eats and Mrs. Jeff Eats saw the Broadway production and loved the show!
Just announced…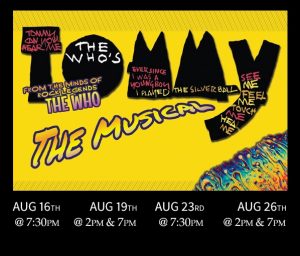 The Who's Tommy
Thursday, 8/16/18 (7;30pm)
Sunday, 8/19/18 (2pm & 7pm)
Thursday, 8/23/18 (7:30pm)
Sunday, 8/26/18 (2pm & 7pm)
Boca Black Box
8221 Glades Road Suite #10,
Boca Raton, Florida 33434
Box Office: 483.9036
Tickets: bocablackbox.com check goldstar.com for discount tickets
from bocablackbox.com
Based on the iconic 1969 rock concept album, The Who's Tommy is an exhilarating story of hope, healing and the human spirit. The story of the pinball-playing, deaf, dumb and blind boy who triumphs over his adversities has inspired, amazed and puzzled audiences for more than 40 years. This five-time Tony Award-winning musical was translated to the stage by theatrical wizard, Des McAnuff, into a high-energy, one-of-a-kind theatrical event.