Chris Kattan (Palm Beach IMPROV- West Palm Beach)
* Chris Kattan.
Kattan's stand-up act is hysterically funny.
Don't miss him!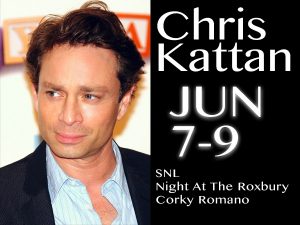 Palm Beach Improv, 550 Rosemary Avenue, West Palm Beach, Florida 33410
Thursday- 6/7/18- 8pm
Friday- 6/8/18- 7:30pm & 10pm
Saturday- 6/9/18- 7pm & 9:30pm
Box Office: (561) 833-1812
Tickets: palmbeachimprov.com
from palmbeachimprov.com
Chris Kattan: Chris Kattan is best known as one of the longest serving cast members on NBC's 'Saturday Night Live.' In the 8 years Chris starred in the landmark late night program, he became best known for his characters 'Mango,' 'Mr Peepers,' and one of the 'Butabi Brothers' in the 'Night at the Roxbury' sketch alongside Will Ferrell. Chris starred with Ferrell in a 1998 movie adaption of the sketch.
Since his time at SNL, Chris has worked as the series regular 'Bob' on ABC's ever-popular 'The Middle' as well as had memorable appearances in the recent hit features 'Hotel Transylvania' and 'The Ridiculous 6.'
Chris trained at Los Angeles' The Groundlings Theater is one of its most famous alumni. He currently tours the country with his extremely popular stand-up act.