Charlie Thomas' Drifters Live In Concert (Curtis Peterson Auditorium- Lecanto)
* Charlie Thomas' Drifters.
Trust Jeff Eats when I tell you that- Charlie Thomas ain't no youngster and- he is without question the "real deal"…
Over the years- Jeff Eats and Mrs. Jeff Eats have seen Charlie Thomas' Drifters at least 10 times and each and every show killed it!
Don't miss Charlie Thomas' Drifters In Concert!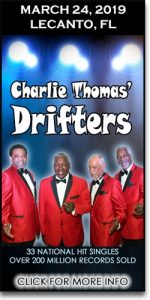 Tickets just went on sale…
* Charlie Thomas' Drifters Live In Concert
Sunday, March 24, 2019 at 7:00 PM
Curtis Peterson Auditorium
3810 West Educational Path
Lecanto, Florida 34461
Box Office: (888) 718-4253
Tickets: poprockdoowopp.com
from poprockdoowopp.com
Pop, Rock & Doo Wopp Live! presents the #1 most-requested vocal group of all time. The Drifters feature Charlie Thomas, the last original Drifter who appears on all of the legendary Atlantic Records hit recordings, including "Under the Boardwalk", "Up on the Roof", "On Broadway", "Save the Last Dance for Me", "This Magic Moment", "There Goes My Baby", "Dance With Me", "Please Stay (Don't Go)" and many more.
To date, The Drifter  have sold over 114 million albums and 214 million singles and are listed on Rolling Stone Magazine's 100 Greatest Artists of All Time.
You'll hear all the hits in a full concert featuring Charlie Thomas' Drifters with a live band.