Brian Scolaro (Tavolino Della Notte- Coral Springs)
* Brian Scolaro.
This guy Brian Scolaro is off the chart- hilarious!
Trust Jeff Eats, I know that this show is something like 6 months away (Wednesday-11/28/18) that said, put the date "away"- the bet here; it's gonna be a SRO event!
Don't miss him!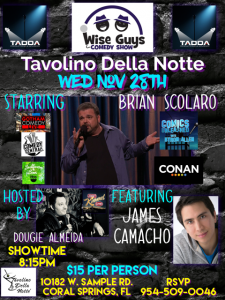 March 6, 2013
***** Tavolino Della Nonna, 10181 West Sample Road, Coral Springs, Florida 33065, (954) 509-0046.
Back on July 18, 2009 I told you guys about a terrific "semi-upscale" Italian joint Tavolino Della Nonna in Coral Springs. The original writeup is reprinted below.
Since that "story" appeared some- 4 years ago–Jeff Eats has eaten in Tavolino something like 4-5 times. In all honesty, until last Friday night, the last visit was probably well over a year ago.
Anyway- to make a long story short, last Friday night Jeff Eats, Mrs. Jeff Eats and another couple ate at Tavolino. The food was as good as the "first" outing and the owners and staff just as engaging and competent. The "update" here is–that Tavolino's owners recently spent some-big bucks expanding the joint having added an entire "wing" dedicated to entertainment. The night Jeff Eats was there, a jazz group was entertaining a huge crowd.
Let me end this thing by saying, I highly recommend that you guys try this joint. It really has everything going for it…delicious food, terrific service, very reasonable prices–and now, a "night-club" atmosphere for those of you looking for something that you normally don't find in an Italian joint in the heart of Coral Springs.
Posted on July 18th, 2009 · Coral Springs Italian
***** Tavolino Della Nonna, 10181 West Sample Road, Coral Springs, Florida 33065, (954) 509-0046.
Last night I ate in Tavolino Della Nonna…a terrific white tablecloth Italian joint located in Coral Springs. Just so you know…A couple of you guys wrote to me and told me that I had to try this joint…so, old Jeff gave Tavolino a shot.
Anyway…Tavolino has been in business for something like 2-years. For you GPS types out there, it is located on Sample Road, within short walking distance of both Pizza Time and DeSalvo's the well known "red sauce" joints. Tavolino is-not a pizza joint…it's a semi-upscale restaurant with both indoor and outdoor patio seating…but don't worry your tee shirt-shorts ensemble will work. At this juncture take a look at Tavolina's website www.tavolinorestaurant.com for menu/prices/photos.
Like I said before, semi-upscale, but the guys running this joint make you feel like an old friend…when you eat there, you'll see what I am talking about. The owners–shall we say, are very visible and make sure that everything is running just right. Last night, I watched as they made the rounds to each and every table, kibbitizing (in an Italian restaurant?) and making people "try" this and "that"…
Before I talk food, let me tell you about a cute "idea" that the joint has decor-wise…one little side room, is decorated Ralph & Alice Kramden, 328 Chauncey Street…there is a formica table circa 1955 that seats 6-maybe-8…so if this type of thing floats your boat, call ahead and reserve that "table."
Onto the food…last night I "tried"– meatball appetizer ($11), tortellini appetizer ($13), veal parmigiana ($23), chicken scarpariello (on bone) ($21), snapper almondine ($23), grilled chicken/pasta ($17)…the food is absolutely delicious.
Just so you know…Tavolino isn't a $13.95-$16.95 soup or salad-entree-pasta side-garlic rolls joint…there is no pizza, subs, calzones or stromboli. Figure on spending–something like 40-50 bucks a head for a great meal. Trust me on this one, the food runs absolute circles around most of the Italian joints down here. I know that the ala carte menu may "scare" some of you guys…the house salad is big enough to feed two as are the side pasta dishes, so if you order the "right way" you won't have to get a second-job to pay the tab. Our waitress was super-helpful on "picks" etc…last night, they had a "strolling" magician who worked all the tables…how he changed those $1 bills into $100 bills is beyond me.
Since I am on the Hollywood Cookie Diet, I passed on dessert. I will tell you, that the dessert tray looked absolutely incredible and that everything including the joint's bread are made in house.
You guys know that I eat in Italian joints all the time…I am telling you, that Tavolino is one of the better restaurants in South Florida. You definitely want to try this one.
Tavolino is open Tuesday-Thursday 11am-10pm, Friday 11am-11pm, Saturday 4pm-11pm and Sunday 4pm-10pm, the joint is closed on Monday.