Just A Courtesy Note From Jeff Eats…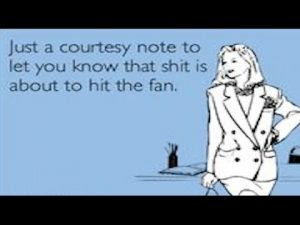 * Just A Courtesy Note From Jeff Eats…
Just read the below story on money.cnn.com.
Very Interesting…
———-
It's not just you: Everything really is getting more expensive
by Nathaniel Meyersohn @CNNMoney
May 18, 2018: 4:20 PM ET
The era of easy money is over
You're not imagining things: Prices are creeping up.
Americans want to buy more stuff, and businesses are rushing to meet demand.
Unemployment is below 4% for the first time in 17 years, wages are slowly inching up, and consumers are spending money on clothes, furniture, and cars. At the same time, elevated labor, transportation and commodity costs are pinching their profit margins.
Both consumers and producers are feeling the squeeze from a healthy US economy. After years of low inflation, prices rose 1.9% in March from a year ago, according to the Federal Reserve's favored inflation measuring stick.
Consumer prices were up 2.1% in April from a year ago, while suppliers paid 2.6% more.
Auto loans are getting more expensive because the Federal Reserve is gradually raising interest rates. The 30-year fixed-rate mortgage has moved to a seven-year high above 4.6%, according to Freddie Mac.
Dozens of companies in recent weeks have said they already hiked prices or plan to in the coming months to combat inflation.
Deere (DE) said on Friday that it would raise prices for its equipment because of higher material and freight costs.
McDonald's (MCD) and Chipotle (CMG) have raised burger and burrito prices. Amazon (AMZN) is increasing Prime memberships by 20%. Netflix made monthly subscription prices 10% higher late last year.
Tyson Foods (TSN) is planning to make Ball Park hot dogs more expensive, while Stanley Black & Decker (SWH) will hike the prices of their industrial tools.
"We're in business to make money, and in order to do that, we have to achieve price increases to offset some of that inflation," Stanley Black & Decker's CEO said last month.
Oil prices crossed $70 a barrel for the first time in more than three years. Americans are experiencing it at the pump: A gallon of gas is $2.91 — 24% higher than a year ago.
Related: What Trump's Iran decision means for oil and gas prices
Higher oil prices will also eat into companies' margins, which could lead them to pass off the costs to consumers. Paint, chemical, consumer products and packaged food companies all depend on crude oil to produce and package their goods. Airlines, trucking, and railroad firms need fuel for transportation.
Oil is American Airlines' (AAL) second largest expense, making air travel costlier for the company. That will trickle down to customers: "I would expect you would see higher fares," American's CEO said last month.
Freight costs are climbing. There aren't enough truck drivers right now to haul all the products manufacturers are churning out around the country. That has sent shipping costs soaring.
"Any company whose product ends up on a truck is going to feel it big time," said Peter Boockvar, chief investment officer at Bleakley Advisory Group. "If anyone is going to be affected by rising freight costs, it's going to be Amazon. Raising Prime is a way of offsetting that."
Steel and aluminum prices are also going up, a concern for consumers. Campbell Soup (CPB) said on Friday that it expected double-digit increases in the two.
Trucker shortage could mean more expensive goods
Related: Campbell Soup CEO abruptly steps down
"A lot of that driven — or all of it driven by the impact of anticipated tariffs," Campbell's chief financial officer told analysts.
In the past, Campbell could charge consumers more, but intense competition between Amazon, Walmart (WMT), Kroger (KR) and other top grocers and retailers could soften the blow to Americans' wallets.
Kroger said in March that it sacrificed lower margins to keep vegetable and meat price tags down, while Walmart reported Wednesday that cheaper prices dented profit.
Household care manufacturers such as Procter & Gamble (PG) and Kimberly-Clark (KMB) have struggled to retain their pricing power against the pressure from retailers. P&G's prices fell 2% last quarter from the year prior, while Kimberly Clark's dropped 1%.
CNNMoney (New York)
First published May 18, 2018: 3:43 PM ET