Texas de Brazil (Fort Lauderdale)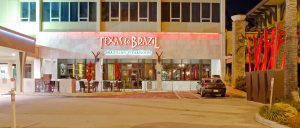 * Texas de Brazil, 2457 East Sunrise Boulevard, Fort Lauderdale, Florida 33304, (954) 400-5630.
Long time reader Michael K. "wanted" to play Jeff Eats…here you go Michael K.
A recent e-mail "review" submitted by reader Michael K…
______
The Mrs's flight was 2 hours late so we decided to have dinner in Ft Lauderdale rather than fight the traffic on I 95. Needless to say it wasn't very difficult to talk her into dining out. I was really, really hungry so we decided to go to Texas de Brazil on Sunrise opposite the Galleria Mall. When we walked in at 6:15 we were the only 2 patrons in the entire restaurant. I jokingly said to the Manager on duty, Danilo (Danny) Cardoso, that life expectancy of this restaurant didn't look promising. He said that this was a late dining crowd. I told him that at this hour, diners in Boca had finished dinner and were already heading home. Danny was very friendly and we hit it off. He is a real asset to the chain. By the way, Danny was right within 45 minutes of our being seated the place was almost at capacity.
Now on to the important items – food and service. They have a very extensive salad bar with veggies, cheeses, meats like prosciutto, etc. There were also some hot items like lobster bisque soup, black beans and rice, cod fish, escalloped potatoes. Finally, we get to the real carnivore aspects of dinner. Gauchos circulate the tables with large skewers of meat. There were skewers with filet mignon, sirloin, lamb, pork, chicken, ribs, sausages. They cutoff slices for you. By your table setting is a card that basically says keep bringing that meat or no, my pants will split if I consume another ounce. Most of the meats were well seasoned and very tasty. Our server, Solamene (hope I didn't screw up the too badly) was very attentive. Also she brought us fried bananas. Wow, great.
Desserts are delectable with a nice variety. Hard to find room after gorging myself with the prior offerings but I did it or perhaps I should have said, we did as the Mrs. was right there with me. It was a long uncomfortable ride home as my pants were very, very tight around my gut.
Dinner is not inexpensive in that it is a fixed price menu at about $ 48 per person excluding dessert and beverage. For us, it was worth it. If you go there say hello to Danny for us.
2457 Sunrise Blvd, Ft Lauderdale 954-400-5630, Open Monday-Thursday 5:30pm-9:30pm/Friday 5:30pm-10pm/ Saturday 5pm-10pm/ Sunday 4pm-9pm, menu/info texasdebrazil.com.