DISH OF THE WEEK (Sunday- 4/22/18-Batch Gastropub- Boca Raton, Miami)
***** DISH OF THE WEEK (Sunday 4/22/18- Batch Gastropub).
One of Jeff Eats favorite menu items…
GNOCCHI MAC & CHEESE WITH FRIED CHICKEN
$19.50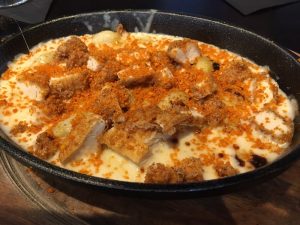 Batch Gastropub
14813 Lyons Road
Delray Beach
(561) 877-000
batchgastropub.com
Latest Review: 1/26/18
&
Batch Gastropub
30 Southwest 12th Street
Miami
(305) 808-5555
Latest Review: 3/19/14
Both Batch Gastropubs are home-run absolute must try joints!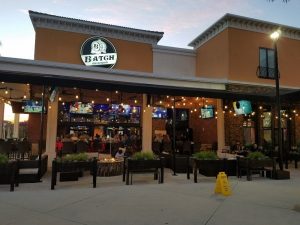 Posted on January 26th, 2018
***** Batch Gastropub, 14813 Lyons Road, Delray Beach, Florida 33446, (561) 877-0000.
Got a terrific "sports bar" for you guys to checkout- Batch Gastropub in Delray Beach!
Jeff Eats and Mrs. Jeff Eats "know" sports bars- and trust me on this one, this Batch Gastropub joint is good stuff! Indoor table/booth seating, outdoor patio table & couch seating, full liquor bar, tons of tvs inside and outside, reasonably priced booze, super good staff, reasonably priced off the chart delicious food, big portions, Friday & Saturday night DJ providied music! Open Sunday-Thursday 4pm-11am, Friday-Saturday 4pm-1am, Saturday brunch noon-3pm, Sunday Brunch 11am-3pm.
Jeff Eats, Mrs. Jeff Eats, Daughter Jeff Eats and Son Jeff Eats did a recent dinner- and I gotta tell you, Batch Gastropub killed it!
Like I said a few seconds ago, Jeff Eats and Mrs. Jeff Eats "know" sports bars- and I'm telling you guys- that you definitely wanna give Batch Gastropub a shot- believe me, it's really that good!
For the Amerigo Vespuccis in the crowd, Batch Gastropub is located in the Delray Marketplace in Delray Beach- there is- another Batch Gastropub location in Miami at 30 Southwest 12th Street (Brickell), (305) 808-5555 (which I already told you guys about on 3/19/14).
You guys can check menus/prices/info (for both locations) at batchgastropub.com.
————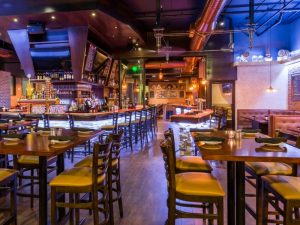 Posted on March 19th, 2014
***** Batch Gastropub, 30 Southwest 12th Street, Miami, Florida 33130, (305) 808-5555.
For our purposes, let's call Batch Gastropub an "American-Style–Sports Bar." When you check menu/prices at www.batchmiami.com you'll also find a load of pictures–the joint is really great looking, with dark-wood booths and of-course loads of flat screen tvs (Do they still make "fat" screen tvs?)
You know and Jeff Eats knows that "sports bars" are literally a dime a dozen down here in South Florida…for sure, "we've all been in tons of them…and I gotta tell you, I was very impressed with Batch Gastropub.
For you drinkers out there…Batch has something like 15 (give or take) beers on tap, and maybe another 20 by the bottle.
Now let's talk about FOOD–Jeff Eats' real-game…
Just so you know, Batch's menu isn't exactly huge…that said, there are enough appetizers, burgers, salads, pizzas, entrees–so I'm thinking- no-body in your party is gonna have to stop at Wendy's on the way home.
A recent dinner had Jeff Eats, Mrs. Jeff Eats and two other couples "doing"…margherita pizza, cheeseburger, hanger steak skewers, mushroom crusted mahi mahi, meatloaf, gnocchi mac & cheese/carmalized onions, truffle salt & shaved truffle cheese fries…and I gotta tell you, no one-bicthed about anything. If Jeff Eats had to give out awards, I thought that the gnocchi, fries, cheeseburger were the stars of the game. Between you and me–the gnocchi was amazing–the joint uses gnocchi with gruyere cheese and for an up-charge has 10 items that can be added to the basic dish–such as chicken, steak, bacon, carmalized onions (check the menu for the full list).
Like I said at the top, I was very impressed with Batch Gastropub…food was solid, service was good, prices exactly what you'd expect in an upscale-sports bar (you can fill in what you think these numbers should be)–one little draw back, the background music was a drop too loud for Jeff Eats' crowd.
Gastropub is open Sunday-Thursday 11:30am-3am, Friday-Saturday 11:30am-5am.