MUSIC FEST- CINCO DE MAYO (Stuart Memorial Park- Stuart)
* MUSIC FEST- CINCO DE MAYO.
This "one" should be real good…
MUSIC FEST- CINCO DE MAYO
Sat, May 5, 2018
10:00 AM – 10:00 PM EDT
Stuart Memorial Park
300 Southeast Ocean Boulevard
Stuart, FL 34994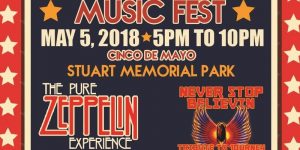 DESCRIPTION
Stuart Memorial Park will come alive with explosive rock 'n' roll Saturday, May 5 – that's right, Cinco de Mayo – when the Pure Zeppelin Experience takes the stage in support of the new Road to Victory Military Museum, and the ongoing fight against multiple sclerosis.
The concert begins at 5 p.m., following a day of family fun in the park. Starting at 10 a.m., the events will include an antique car show, military vehicle displays, weapons demonstration, RC boat shows and demonstrations and more.
Food trucks, as well as beer, wine, water and soft drinks, will be on site.
General admission tickets, for the entire day, are $5. VIP tickets for the concert, $25, include reserved seating, a taco bar, plus Coronas and Margaritas provided by Mulligan's Beach House.
The concert features the Pure Zeppelin Experience – longtime partners with the Artists For MS organization – with Never Stop Believin': A Tribute to Journey and singer/songwriter Scott Benge.
The Pure Zeppelin Experience is a Florida-based tribute band that reproduces a full Led Zeppelin concert, the madness and the majesty, to thrilling, chest-pounding effect. From "Dazed and Confused" and "Ramble On" to "Over the Hills and Far Away" and "Kashmir," The Pure Zeppelin Experience is the musical, physical and spiritual manifestation of the great Led Zeppelin, for our times. Their explosive, full-immersion show, augmented by a full laser light production, goes for the deep, deep cuts as well as the more well-known Zeppelin numbers.
Tickets are available online at showclix.com/event/PUREZEPPELIN, and will be available at the gate.