Men arrested at Starbucks were there for business meeting hoping to change 'our lives'
* Men arrested at Starbucks were there for business meeting hoping to change 'our lives.'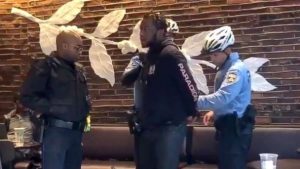 I'm assuming that you guys have heard about the 2 black guys who were recently arrested at a Starbucks…
I don't know about you guys- but every time I've been in a Starbucks there have literally been a load of people sitting on chairs busy using Starbucks' wi-fi service who haven't bought a damn thing!
I also know that purchase or no purchase- Jeff Eats and/or Mrs. Jeff Eats would have been "directed" to the store's bathroom and in a million years- the store manager would never have called the police "on" us and that if he/or she did- the police would never ever have arrested us!
I also know that Starbucks should pay each of these guys $250,000 and call it a day!
from yahoo.com
Men arrested at Starbucks were there for business meeting hoping to change 'our lives'
Good Morning America
MORGAN WINSOR and KELLY MCCARTHY
Good Morning AmericaApril 19, 2018
The two black men who were arrested at a Starbucks in downtown Philadelphia last week and accused of trespassing say they were there for a business meeting that they had hoped would change their lives.
Rashon Nelson and Donte Robinson came forward this morning on ABC News' "Good Morning America" to publicly share their story for the first time.
The 23-year-old entrepreneurs and longtime friends said they were waiting to meet a potential business partner at the Starbucks in Philadelphia's Rittenhouse Square neighborhood April 12 when a barista asked them whether they wanted to order anything. They declined and told her they were just there for a quick meeting, they said.
Nelson said he immediately asked to use the restroom when they walked in but was informed it was for paying customers only. So the pair sat at a table and waited for the person with whom they were scheduled to meet.
Then they saw police officers enter the store and speak with the manager, they said.
"I was thinking, 'They can't be here for us,'" Robinson said in the interview with "GMA" co-anchor Robin Roberts. "We have meetings at Starbucks all the time."
PHOTO: Two men were arrested at a Starbucks in Philadelphia, April 12, 2018. (Twitter)
PHOTO: Two men were arrested at a Starbucks in Philadelphia, April 12, 2018. (Twitter)
More
They didn't think anything of it until the officers approached their table and told them they needed to leave, they said.
"It was just, 'Get out, you have to leave. You're not buying anything, so you shouldn't be here,'" Nelson told "GMA."
They said they calmly told the officers they were there for a meeting, and Robinson said he even called the person for whom they were waiting. But the officers repeatedly insisted that they leave, they said.
"It's a real estate meeting. We've been working on this for months," Robinson said. "We're days away from changing our whole entire situation, our lives, and you about to sit here telling me I can't do that? You're not doing that."
The officers ultimately handcuffed Nelson and Robinson, and escorted them out of the Starbucks and into a squad car before taking them to the police station. Both men were later freed and the charges they were facing — trespassing and disturbance — were dropped that night.
PHOTO: Two men were arrested at a Starbucks in Philadelphia, April 12, 2018. (Twitter)
PHOTO: Two men were arrested at a Starbucks in Philadelphia, April 12, 2018. (Twitter)
More
An onlooker, Melissa DePino, captured the incident on video, which has been viewed more than 10 million times online and prompted protests outside the coffee giant's location on Spruce Street.
DePino, a 50-year-old writer and mother of two, told ABC News a Starbucks barista shouted from behind the counter at the two men to make a purchase or leave.
"They were sitting quietly minding their own business, and waiting for their friend to come," she said in an interview Sunday.
Robinson said police never read them their Miranda rights when they were handcuffed and they were held in custody for eight hours.
"There was no reasoning," he said. "They had nothing. They just kept using 'defiant trespassing' as their excuse for putting us behind bars."
The Philadelphia Police Department did not immediately respond to ABC News' request for comment this morning. But Philadelphia Police Commissioner Richard Ross Jr. said in a video testimonial released Saturday that his officers "did absolutely nothing wrong."
"I can tell you candidly these officers did a service they were called to do," Ross said.
The police commissioner also accused the men of being disrespectful to the officers and said that both were given several chances to leave, but they refused.