Back to '76- Firefall, Orleans, John Ford Coley (Barbara B. Mann Performing Arts Hall- Fort Myers)
This article first appeared on 3/7/18. Just checked the Box Office-bbmmanph.com and there are a handful of really good tickets left. If you wanna go…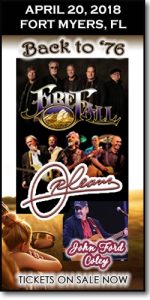 * Back to '76- Firefall, Orleans, John Ford Coley.
This is gonna be some concert!
The Skinny:
from poprockdoowopp.com
Back to '76- Firefall, Orleans, John Ford Coley
Friday, April 20, 2018 at 7:30 PM
Barbara B. Mann Performing Arts Hall
13350 FSW Parkway
Fort Myers FL 33919
Box Office: (800) 440-7469
Tickets: bbmmanpah.com
Back to '76
The year was 1976. It was our country's bicentennial and patriotism was at an all-time high. Gas was 59 cents a gallon and one of the greatest feel-good movies of all time, "Rocky", was on the silver screen. The lush guitars and gorgeous harmonies of "Still the One", "You are the Woman" and "I'd Really Love to See You Tonight" poured out of every radio in the country. Don't miss this one-night-only reunion of the original artists who took those records, and dozens more, to the top of the charts!
Firefall
In an age where new bands come and go, Firefall has enjoyed a career that spans more than forty years and shows no sign of slowing down. Firefall's commercial success includes three gold albums, two platinum albums and eleven chart-topping singles. The band's biggest hit,
"You Are the Woman" has been played on commercial radio more than 7,000,000 times and has also appeared in many movies and television shows. Other hit songs include "Goodbye I Love
You", "Cinderella", "Strange Way", "Mexico" and "Just Remember I Love You". Currently touring with three original members (Jock Bartley, David Muse, Mark Andes), longtime drummer Sandy Ficca and talented newcomer Gary Jones, Firefall continues to make great music for a loyal following and garner new fans at every stop on their tour.
Orleans
Orleans is best known as the 70s pop-rock band that brought you the iconic hits "Still the One", "Dance With Me" and "Love Takes Time". Now entering it's 41st year of live performances, Orleans has produced a body of work spanning 16 albums and several DVDs. The band continues to be in great demand domestically and internationally for live shows, as they have been for four decades. Co-founder Lance Hoppen (brother of the late co-founder Larry Hoppen), along with long-standing members Lane Hoppen, Fly Amero and Charlie Morgan were recently re-joined by co-founder John Hall (who had been on sabbatical as a US Congressman) in order to carry on with dignity and integrity the legacy that began 40 years prior.
John Ford Coley
There are songs you hear in your life that transport you to a certain time period or give you a special feeling. You associate those good times to the group that made them famous. Songs like "I'd Really Love To See You Tonight", "We'll Never Have To Say Goodbye Again", "Nights Are Forever Without You" and "Love Is The Answer" have that kind of effect on people. Those songs and numerous others have earned John Ford Coley gold and platinum records and made him a singing legend. He has spent decades touring, writing, recording, and producing other artists but on April 20th, he'll be singing all the hits.
Back to '76 is produced by Praia Entertainment Group (producers of the Barbara B. Mann's wildly popular "Sixties Spectacular" and "Motown Christmas" concert events).