Tammy Pescatelli (Boca Black Box- Boca Raton)
This article first appeared on 3/2/18. I just check the Boca Black Box's box-office (bocablackbox.com) and goldstar.com (discount tickets) and there are a handful of tickets still available for Pescatelli's 8pm-shows this coming Friday, 4/6/18 and Saturday, 4/7/18. Trust Jeff Eats on this one- you definitely wanna see Tammy Pescatelli's stand-up act!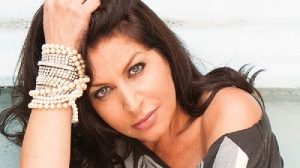 Posted on March 2, 2018
* Tammy Pescatelli.
If you wanna see one of the America's funniest "light blue" edgy- female comedians- go see Tammy Pescatelli!
Jeff Eats and Mrs. Jeff Eats have seen Pescatelli's stand-up act and the lady absolutely kills!
Don't Miss Her!
The Skinny:
Tammy Pescatelli
Friday, April 6, 2018 (8pm) & Saturday, April 7, 2018 (8pm)
Boca Black Box
8221 Glades Road #10
Boca Raton, Florida 33434
Box Office: 561.483.9036
Tickets: bocablackbox.com goldstar.com (Discount tickets)
from bocablackbox.com
Tammy Pescatelli brings brassy sexiness with a female voice of witty sarcasm to her audiences, holding her own on the topics of sports, television, dating and family life using tongue-in-cheek humor. She is one of the only female comedians who is relatable to every audience member-male & female. After seeing her perform, nearly everyone wishes she was their best friend or sister!
Her most recent one-hour special, the top downloaded, Finding the funny (available on Netflix & iTunes) is just one of her new and noteworthy endeavors. Including recent big appearances on The View, Red Eye, Guy's Grocery Games, and The Howard Stern Show and featured in the documentary, "I Am Battle comic". Tammy was also chosen by Jenny McCarthy & Donnie Wahlberg to be a part of their Dirty, Sexy, Funny franchise that included a hilarious all-female slate of standup comedian's comedy special on EPIX/Hulu, a touring show and a pilot for A&E.