Zinger's Deli (Boca Raton)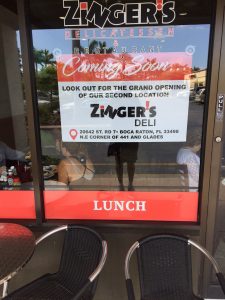 * Zinger's Deli, 20642 State Road 7, Boca Raton, Florida.
Yesterday, Jeff Eats picked-up a takeout from Zinger's Delicatessen, 7132 Beracasa Way, Boca Raton, Florida 33433, (561) 826-7323- and noticed the above pictured sign. Apparently, somebody's business has been real good…
Just between you guys and Jeff Eats, I kinda think that Zinger's Delicatessen is one of the best- if not the best- Florida- New York Kosher Style Deli that I've eaten in over the past 25 years.
With all of the above in mind, I'm going to keep a close eye on this coming store #2 "development" and as I get information I'll pass it on-to you guys!