Sprung! Spring Beer Festival 2018 (Wynwood Marketplace- Miami)
* Sprung! Spring Beer Festival 2018.
Jeff Eats and Mrs. Jeff Eats are going.
The truth be told, in our "college days" Jeff Eats and Mrs. Jeff Eats could have easily done some real serious damage at this event- but as the old saying goes- "Time and tide wait for no man."- but we'll do our best on April 7th!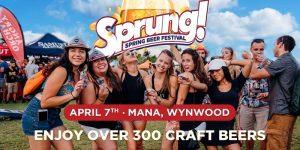 DATE AND TIME AND PLACE
Sat, April 7, 2018
2:30 PM – 7:00 PM EDT
Wynwood Marketplace
2250 Northwest 2nd Avenue
Miami, FL 33127
TICKETS/INFO: eventbrite.com
DESCRIPTION
Sprung! Spring Beer Festival is back for 2018 at a new Wynwood spot, the Wynwood Marketplace, featuring the UNLIMITED CRAFT BEER SAMPLES you crave and a brand new theme! We're bringing 150+ breweries to Mana Wynwood's Art Walk space at 2250 NW 2nd Ave, and NEW for 2018, it's the Sprung! Games! Play your friends in Flip Cup, 2-person Beer Pong, 1-on-1 Beer-in-Hand H.O.R.S.E., Cornhole, and more.
Other highlights include: The Kitchen Lab, with cooking demos and sampling from South Florida's best chefs, Live Music with kickass bands and DJs, Miami's Best Food Trucks to meet your noshing needs, and the Thrifter Market featuring Miami's finest artisan-crafted goods and artwork.