Rocky Laporte (Boca Black Box- Boca Raton)
* Rocky Laporte.
Real simple tale…
Rocky Laporte is one of the funniest- "clean" comedians currently working America's casino/event/resort circuit!
If you wanna laugh yourself silly- make it your business to go see Rocky Laporte.
Laporte is scheduled to play the Boca Black Box in Boca Raton on Saturday, April 14th, 2018- at 7pm and 9pm!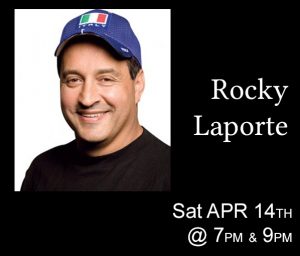 Rocky Laporte
Saturday, April 14th, 2018 (7pm & 9pm).
Boca Black Box
8221 Glades Road Suite #10,
Boca Raton, Florida 33434
Box Office: 483.9036
Tickets: bocablackbox.com check goldstar.com for discount tickets
from bocablackbox.com
Rocky traveled with Drew Carey to Iraq to entertain the troops and was seen on the Showtime special Patriot Act: A Jeffrey Ross Home Movie. Rocky has filmed his own Comedy Central Presents special and was voted the network's second most popular comedian in a nationwide poll. He has performed on The Tonight Show with Jay Leno, and appeared on A&E's Evening At The Improv and VH1's Stand-Up Spotlight, along with sitcom appearances on Cheers and his own NBC pilot called the Rocky LaPorte Show.
Rocky has opened for the likes of Garry Shandling, Drew Carey, Tim Allen, Louie Anderson, Hootie and the Blowfish and the Righteous Brothers, just to name a few. His clean, blue-collar style of comedy continues to increase in popularity as he travels the country.