Barbra Streisand Duets (Boca Black Box- Boca Raton)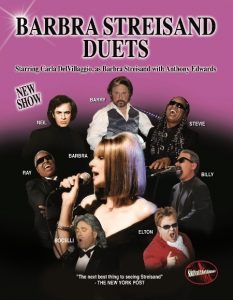 * Barbra Streisand Duets.
Just announced…
Two superb and I do mean SUPERB- tribute artists…
Jeff Eats and Mrs. Jeff Eats are gonna be there. Can't wait to see and hear what Carla DelVillagio and Anthony Edwards cook-up for the audience!
You can go to the bank that- Barbra Streisand Duets is going to be SRO!
The Skinny:
Barbra Streisand Duets
Thursday Night, April 12th, 2018 (8pm)
Boca Black Box
8221 Glades Road #10
Boca Raton, Florida 33434
Box Office: 561.483.9036
Tickets: bocablackbox.com- check goldstar.com (discount tickets)
from bocablackbox.com
"JUST LIKE STREISAND"
-The New York Post
An intimate evening with Barbra Streisand "Duets".
Starring Anthony Edwards of The Edwards Twins &
Award-winning tribute artist, Carla DelVillaggio, as Barbra Streisand, brings you an EXCITING brand-new show!
Enjoy a very special evening full of all the wonderful, iconic duets Barbra has sung over the years. Joining "Barbra" will be "Neil Diamond", "Johnny Mathis", "Barry Gibb", "Billy Joel", "Andrea Bocelli", "Judy Garland" and MUCH more. In addition, Ms DelVillaggio will perform the Best of Barbra's greatest hits from the 60s, 70s, 80s and 90s!
This multimedia theatrical experience is one-of-a-kind! Backed by a world-class band, Ms DelVillaggio, and Mr. Anthony Edwards, as her duet partners, will astonish you and leave you speechless. This is sure to be one of the most unique and entertaining shows you have ever seen.
It's going to be Like Buttah!