Easter Egg Hunt (Delray Marketplace Amphitheater- Delray Beach)
* Easter Egg Hunt.
Was just thinking that "this" might work for some of you guys!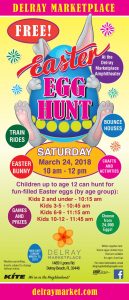 from delraymarket.com
A fun, festive event for the whole family at the Delray Marketplace Amphitheater!
• Choose from over 24,000 eggs!
• Visit with the Easter Bunny!
• Bounce Houses
• Face Painting
• Train Rides
• Crafts and Activities
• Games and Prizes
Children up to age 12 can hunt for fun-filled Easter eggs (by age group):
Kids 2 and under – 10:15 am
Kids 3-5 – 10:45 am
Kids 6-9 – 11:15 am
Kids 10-12 – 11:45 am
Weather permitting. Events subject to change without notice. While supplies last. Some eggs contain toys that are suitable for ages 4 and up.
For more information, email drbgroupllc@drbgroupllc.com.