Trader Ming's Mandarin Orange Chicken (Trader Joe's- Boca Raton)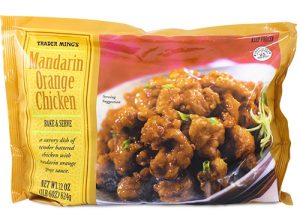 ***** Trader Ming's Mandarin Orange Chicken.
Yesterday, Jeff Eats bought a $4.99 package of frozen- Trader Ming's Mandarin Orange Chicken at the Trader Joe's, 855 South Federal Highway, Boca Raton, Florida 33432, (561) 338-5031 and I gotta tell you guys- the orange chicken was absolutely delicious!-For the record, Trader Ming's is a Trader Joe's house-brand.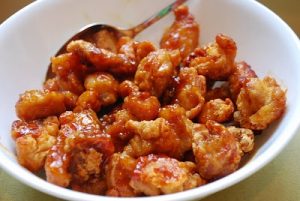 Over the years, Jeff Eats has probably eaten something like a million takeout orders of- Chinese Orange Chicken and this "frozen" package of- Trader Ming's Mandarin Orange Chicken which I cooked-up (actually heated-up) in my Boca Raton kitchen was as good if not better than 96.794% of the aforementioned Chinese Orange Chicken takeout orders!- For the curious out there, write Jeff Eats at jeffeats.com and I'll give you a list of the 32,060 Chinese Orange Chicken takeout orders which were better than the Trader Ming's Mandarin Orange Chicken that Jeff Eats had last night!
All I can tell you guys- is that if you like Chinese Orange Chicken- then you gotta try Trader Ming's Mandarin Orange Chicken!
For Trader Joe's store locations/product information- traderjoes.com.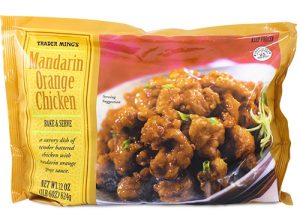 from traderjoes.com
We Love Mandarin Orange Chicken
January 29, 2018 in Category: Product Stories
Recently, our customers (maybe even you, reading this right now) voted Trader Joe's Mandarin Orange Chicken their overall favorite product. And why wouldn't it be? Tender chunks of juicy chicken in a crispy breading, coated with a house-made sauce of fresh California orange peels, fresh ginger, fresh garlic, fresh green onions, and soy sauce…even we're drooling at the thought.
Because this product hit our shelves way back in 2004 (and because it's your favorite), you probably know its prep instructions by heart. And while it's perfectly acceptable to microwave the sauce, mix it with the baked chicken and get on with your life, there's an extra step that takes this chicken over the top, and makes it extra delicious.
0:08
It's quite simple, really: Bake the chicken according to the package instructions. During the last few minutes of cooking, pour the defrosted sauce into a HOT wok or non-stick pan—hot is the key here. Stir the cooked chicken pieces into the sizzling sauce, and watch it transform as it clings to the chicken—perfectly caramelized, sweet and tangy. Looks like takeout, and tastes even better.
Now, on to the best part—the eating! Whether you skewer the chicken with toothpicks for a no-fuss appetizer, or plate it with rice & steamed veggies for a square meal, you've got a whole lot of tastiness, without a whole lot of work. Which we think is pretty great, if we do say so ourselves.
We're selling 22-ounce packages of Trader Joe's Mandarin Orange Chicken for the WOW price of $4.99 each, everyday. You'll find them in our freezers.