A Sixties Spectacular (Carole & Barry Kaye Performing Arts Auditorium at FAU- Boca Raton)
This article first appeared on 12/8/17. Jeff Eats just checked poprockdoowopp.com/ ticketmaster.com/ fauevents.com and there are a handful of seats left for tonight's concert! So if you wanna go, it's definitely time to make your move on the ticket front!
Posted on December 8th, 2017
* A Sixties Spectacular.
Just announced!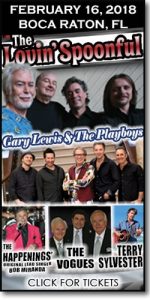 You guys can buy tickets…
Ticketmaster: (800) 745-3000.
Online at poprockdoowopp.com ticketmaster.com fauevents.com.
Absolutely killer lineup!
The Skinny…
A Sixties Spectacular at FAU
Friday, February 16, 2018 at 8:00 PM
Carole & Barry Kaye Performing Arts Auditorium at FAU
777 Glades Road
Boca Raton, Florida 33431
from poprockdoowopp.com
Friday
February 16, 2018
A Sixties Spectacular
Stars of the 60s come to Boca with 5 of the biggest hit-makers of the era including 3 Rock & Roll Hall of Fame legends…
The Lovin' Spoonful ("Do You Believe in Magic?", "Summer in the City", "Did You Ever Have to Make Up Your Mind?", "Daydream")
Gary Lewis & the Playboys ("This Diamond Ring", "Everybody Loves a Clown", "She's Just My Style", "Green Grass", "Count Me In")
The Vogues ("You're the One", "5 o'Clock World", "My Special Angel", "Turn Around, Look at Me")
The Happenings' original lead singer Bob Miranda ("See You in September", "I Got Rhythm", "Go Away Little Girl") and
Terry Sylvester of the Hollies ("The Air that I Breathe", "He Ain't Heavy, He's My Brother", "Long Cool Woman in a Black Dress").