Applebee's Handcrafted $7.99 Burgers (Applebee's- Delray Beach)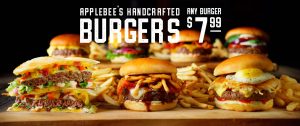 ***** Applebee's Hancrafted $7.99 Burgers.
Yesterday, Jeff Eats and a couple of buddies ate lunch at the Applebee's Neighborhood Grill + Bar located at 15058 Jog Road, Delray Beach, Florida 33446,(561) 865-8757- with all of us taking advantage of Applebee's Handcrafted $7.99 Burgers promotion (7 different burgers each with a side order of french fries) which started something like 2 weeks ago.
Trust Jeff Eats on this one, HOMERUN! Absolutely delicious burgers and french fries for the ridiculously low price of $7.99 per burger/french fries!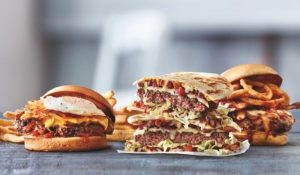 Jeff Eats knows that some of you guys out there are fancy schmancy characters- and that Applebee's isn't in your vocabulary- all I can say is dumb move! Delicious burgers and french fries for dirt cheap money- A P P L E B E E 'S.
For locations/promotion info- check applebees.com.
from applebees.com.
HANDCRAFTED BURGERS
When it comes to burgers, Applebee's means business. That's why we handcraft each and every one of our juicy all-beef burgers with delicious toppings, savory ingredients and fresh, never frozen beef. Served with a mountain of classic fries for just $7.99, you can rest assured you won't find a better burger at a bolder price.
BRUNCH BURGER
Topped with a fried egg, hash browns and bacon, this burger's got everything you need for a complete breakfast—and lunch.
WHISKY BACON BURGER
This burger is stacked with a Fireball® Whisky-infused steak sauce, loaded with bacon and topped with crispy onions.
QUESADILLA BURGER
Packed with Mexi-ranch, bacon, pico de gallo and cheese, we tackled the near-impossible task of combining a burger and a quesadilla.
CAPRESE MOZZARELLA BURGER
Travel to Italy by way of our burger topped with fresh mozzarella, basil and a homemade balsamic aioli.
CLASSIC BURGER
Lettuce, tomato, onion, pickles and a juicy burger on a Brioche bun make this burger a bona-fide classic.
THE AMERICAN STANDARD BURGER
Name a burger more American than one topped with bacon and American cheese.
TRIPLE BACON BURGER
You guessed it — this burger's got bacon, more bacon and then some more bacon.