Trader Joe's Chicken Spring Rolls (Trader Joe's- Boca Raton)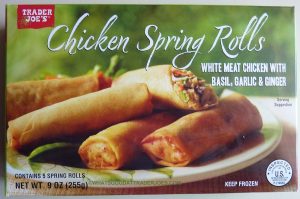 ***** Trader Joe's Chicken Spring Rolls.
Yesterday afternoon- Jeff Eats bought a package of Trader Joe's Chicken Spring Rolls ($3.99- package of 5) at the Trader Joe's, 855 South Federal Highway, Boca Raton, Florida 33432, (561) 338-5031 and I gotta tell you guys- these spring rolls were big time winners! Now, I'm no Betty Crocker- but these frozen spring rolls in addition to being absolutely delicious- were so easy to make- that it was actually scary (baked for 25 minutes in a 400 degree oven then topped with some duck sauce that Mrs. Jeff Eats had lying around in our kitchen- from our last Bamboo Wok, 9181 Glades Road, Boca Raton, Florida (561) 218-6003 take-out order)!
For you guys who maybe wondering, Bamboo Wok – (which is one of Jeff Eats' favorite Chinese take-out joints- Latest Review: 12/2/15) doesn't make Chicken Spring Rolls- that said, its Spring Rolls at $1.65 and Egg Rolls at $1.59 a pop- are no match for Trader Joe's Spring Rolls (5) which fetch $3.99!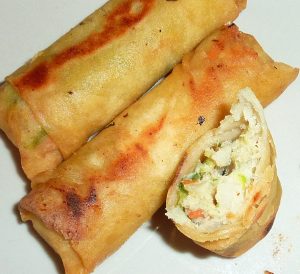 Trust Jeff Eats on this one, Trader Joe's Chicken Spring Rolls are real good stuff!
Check traderjoes.com for Trader Joe's locations/product information.
from traderjoes.com
When your fingers first pinch the outside wrapper of a spring roll, the texture is the tell. Soggy sides foreshadow watered-down filling. Crisp sides—that crackle with your touch—hold the promise of a big, balanced, boastful bite.
Chasing down this crispy-fried-roll dim sum ideal, we partnered with Asian cuisine experts (who immigrated to New York from Taiwan to pursue their passion for food) to create Trader Joe's Chicken Spring Rolls. Having perfected the technique of eliminating excess water in their fillings, the wrappers on their rolls (now ours) stay exceptionally crisp. Lest you think we exaggerate, they've quantified the amount of moisture—between 35% to 40%—that they manage to extract from the vegetables.
Even more important than the well-managed moisture are the vibrant flavors expressed in the hearty filling. Based on the popular Taiwanese "3 Cup Chicken" dish, our Chicken Spring Rolls feature chunks of white meat chicken, cabbage, carrots, and green onion that are cooked in hot woks with plentiful basil, garlic, and ginger. Simmered with soy sauce, sesame oil, rice wine, and chili paste, the flavor only intensifies. The finished filling is carefully tucked into a wheat-flour wrapper and deep-fried to make a thin, light, crisp shell.
Bake in the oven (20-25 minutes), or fry on the stove top (5-10 minutes) until the outside wrapper is golden and tellingly crisp. Serve with our Sweet Chili Sauce or Satay Peanut Sauce for dipping. We're selling each nine ounce package of five Chicken Spring Rolls for $3.99.