Win A $25 Cheeseburger Baby Gift Card (Miami Beach (2))
This contest started on 1/31/18. This contest has a winner.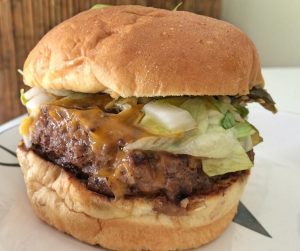 * Win A $25 Cheeseburger Baby Gift Card.
Jeff Eats got a $25 Cheeseburger Baby Gift Card to give to one of you guys!
The game- the first 25 "reader-comments" received – will be entered in a "blind hat pick"! You can submit as many comments as you'd like but- Please, only 1- reader comment – per day…play fair!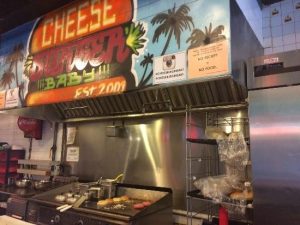 The $25 Gift Card is good at Cheeseburger Baby, 1505 Washington Avenue, Miami Beach, Florida 33139, (305) 531-7300 and Cheeseburger Baby, 212 Northeast 79th Street,Miami, Florida 33138, (786) 536-2933. Check menu/prices/info at Cheeseburgerbaby.net.
————————-
Posted, December 8th, 2006
***** Cheeseburger Baby
1505 Washington Aveue
Miami Beach, Florida 33139
(305) 531-7300
If you like cheeseburgers (and who doesn't), I got a little-hole-in-the wall joint that you "don't want to miss." Before I go any further, I think that calling a "hole-in-the-wall" little, is an oxymoron, but anyway…
Cheeseburger Baby has counter seating and a few-high-tops and that's it. This joint makes some of the best burgers that you will ever taste. The "stars" of the menu are the 1/2lb burger ($5.50), the 1/2lb cheeseburger ($6.50), the 2.5oz burger ($2.00) and the 2.5oz cheeseburger ($2.50) which are superbly grilled and then "placed" in an egg-bun. I am not talking good "here." I am talking "terrific."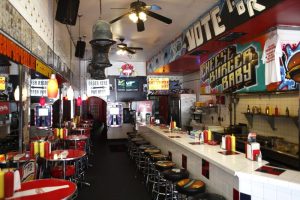 Cheeseburger Baby has other "stuff" on its menu, like wings and chicken breast sandwiches. That said, when a joint is called CHEESEBURGER BABY, you should be smart enough to know what to order.
Cheeseburger Baby is open Monday-Wednesday noon-4am, Thursday-Saturday 11am-6am and Sunday 11am-4pm. The way to "play" this one, is to order a 1/2lb bacon-cheeseburger with grilled onions, a side of french fries ($3.00) and a Coke and you will be in 7th-heaven (well, I was anyway).
This joint's "odd-hours" in the past, have drawn such "notables" as, P. Diddy, Fat Joe, Beyonce and JeffEats.