Cecilie's Gourmet Italian Ices (Coral Springs)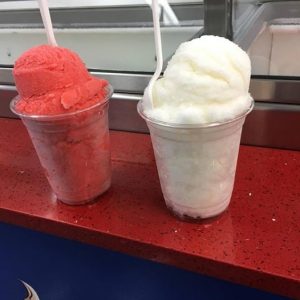 ***** Cecilie's Gourmet Italian Ices, 19726 Wiles Road, Coral Springs, Florida 33076, (954) 753-2727.
A recent e-mail received by Jeff Eats…
Jeff,
I need to find an Italian Ices supplier for a party I'm throwing in February at my pool in Tamarac for about 40 people. Like you I'm originally from Brooklyn and was literally raised on pizza joint lemon and cherry water ices. I was thinking that lemon, cherry and chocolate would go over big.
Any recommendations?
Thanks,
Joe N
—————-
Joe N,
This one's a no brainer!
Check ceciliesices.com.
Thanks for reading…
Jeff Eats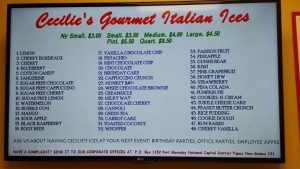 Posted March 17, 2013
***** Cecilie's Gourmet Italian Ices, 19726 Wiles Road, Coral Springs, Florida 33076, (954) 753-2727.
Let me start by saying, that one of Jeff Eats favorite "desserts" is (or is it- are?) Italian Ices. I've been hooked on the stuff, since my Brooklyn days, when I would get a large cup ($.10) at the pizza joints in my neighborhood—1 scoop cherry/1 scoop lemon. Not sure when the "hooking" first took hold, but I do have a black & white photo of me-holding a squeeze cup of ices in the Summer of 1953.
Anyway…
I'm really pissed at myself, because "big ears" Jeff Eats didn't hear about Cecilie's Gourmet Italian Ices until yesterday afternoon. Amazingly, this joint has been around for something like 20 years.
Cecilie's is located in the "ultimate" bombed-out South Florida shopping strip center. When you go there, get directions first, because the store is a real hole in the wall and give or take 1-or 2 other stores you'd never-ever think of going to this center. This center is so decrepit, that Cecille's can't run a a simple soft-serve yogurt/ice cream machine–because there isn't enough electrical power running to the store.
Despite the aforesaid…
Cecilie's makes some of the most delicious Italian Ices that Jeff Eats has ever eaten. ALL OF THE ICES ARE MADE IN THE BACK OF THE STORE. The joint has 48 flavors, four of which are sugar free (Mrs. Jeff Eats appreciated that). In speaking with Evan the owner, every day (give or take) he rotates 4 flavors in and out of the lineup…24 of the flavors are cream ices and 24 are water ices.
Let me make this one short and sweet (pun intended)…
I "sampled" 12 different flavors— cherry, pistachio, oreo cookies, jelly roll chocolate, coconut, lemon, peanut butter, cotton candy, carrot cake, honeydew, chocolate mint chip, birthday cake. Do you know what a "pig in sh@t" is? Well Jeff Eats was. Cecilie's makes some of the best ices I've ever had. Just so you know, during the 1/2 hour or so Jeff Eats was there (starting at 3:30pm) at least 20 people came and went and everyone of them "tried" all kinds of ices before settling-in with a final purchase. Figure a small cup is gonna run you- 3 bucks.
A bit more "color"…the owner Evan, is about 44 years old–born in Brooklyn and raised in Philly. He opened this store 20 years ago and makes all of the ices all-by-himself. This is what Jeff Eats calls a one-man-show…Cecilie's is open Monday 3pm-10pm, Tuesday-Thursday 1pm-10pm, Friday-Saturday 1pm-11pm, Sunday 1pm-9pm…Evan is the sole counter person Monday-Saturday, he takes Sunday-off when he has a couple of young ladies run the store. By the way, Cecilie's has a couple of tables inside and 1 table outside so if you want–you can hang-out.
Like I said a few seconds ago, I can't believe that I "missed out" on 20 years of Cecilie's…
Trust Jeff Eats on this one, This joint's Italian Ices are about as good as it gets.