The Martin & Lewis Tribute Show (Boca Black Box-Boca Raton)
This article first appeared on 1/14/18. Jeff Eats just checked the Boca Black Box Box-Office and goldstar.com (discount tickets) and there are a handful of really good seats still available for tomorrow's 2pm and 7pm shows. Trust me on this one, The Martin & Lewis Tribute Show is a fabulous Show- don't miss it!
Posted on January 14th, 2018
* The Martin & Lewis Tribute Show.
Jeff Eats and Mrs. Jeff Eats saw the show last year- and I'm telling you guys that it's absolutely sensational!
Go see The Martin & Lewis Tribute Show- you'll swear that both Jerry Lewis and Dean Martin are standing right in front of you!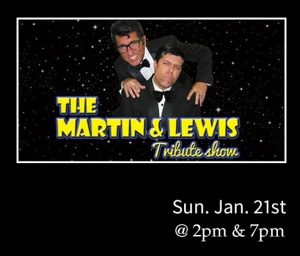 The Skinny:
The Martin & Lewis Tribute Show
Sunday, January 21st, 2018 (2pm) & (7pm)
Boca Black Box
8221 Glades Road, Boca Raton, Florida 33434
Box-Office: (561) 483- 9036
Tickets: bocablackbox.com goldstar.com (discount tickets)
from bocablackbox.com
"The Martin and Lewis Tribute" is a show in a class all its own. Never have two artists captured the very essence and chemistry of the celebrities they perform as have Tom Stevens and Tony Lewis. These two incredible performers have each had success on their own.
Having spent the last 27 years performing throughout Australia, Tony Lewis has created a name for himself as the quintessential Jerry Lewis tribute artist. His one man show has sold out countless venues and has earned him the respect as one of Australia's best entertainers.
Since his first appearance at the Dean Martin Festival in 1998, Tom Stevens has earned his title as "The Best Dean Martin Tribute Artist", even Dean's daughter Deana said "I've never seen anybody look and sound more like my Daddy." Having spent the last 11 years in Las Vegas, Tom has amazed audiences with his uncanny tributes to over 100 celebrities.
Together they are undeniably a one of a kind show that will make you feel as if Dean Martin and Jerry Lewis are still performing together today. Not only will this show bring back memories to those who remember the Martin and Lewis era but will also entertain a whole new generation of fans who will grow to respect the talents of Tom Stevens and Tony Lewis as two of the world's best tribute artists.