Sam's Pizza (West Palm Beach)
***** Sam's Pizza, 928 Belvedere Road, West Palm Beach, Florida (561) 835-1394.
Got a real good hole in the wall pizza joint for you guys to checkout- Sam's Pizza in West Palm Beach.
Real simple concept at work here- order/pickup at counter, 2 tables and a handful of counter seats, open Sunday-Thursday 11am-10pm, Friday-Saturday 10am-11pm.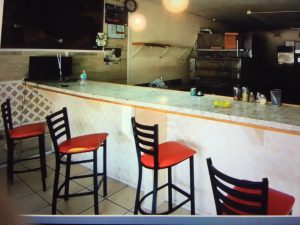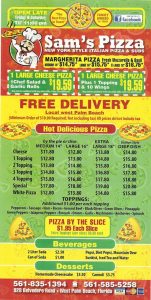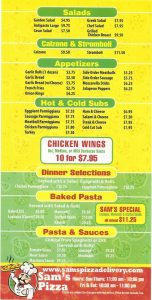 Last night, Jeff Eats and Mrs. Jeff Eats did a large (16") pepperoni pizza at Sam's Pizza- and I gotta tell you that it was right on the money. I don't know about you guys, but Jeff Eats and Mrs. Jeff Eats like thin/crispy/sweet sauce/gooey cheese pizza- and Sam's pie fit the bill perfectly!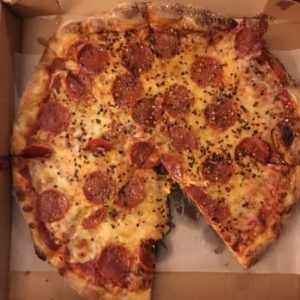 Just so you guys know, Jeff Eats and Mrs. Jeff Eats only did a large pepperoni pie! That said, based on that-delicious pizza and the great looking chicken parm sub and calzone- the guy next to us was wolfing down- Jeff Eats is gonna make a gut call here and bet that the rest of Sam's Pizza's stuff is also real good!
For menu/prices/info on Sam's Pizza you guys can check- samspizzadelivery.com.