SARGE Chanukah Special (Boca Black Box- Boca Raton)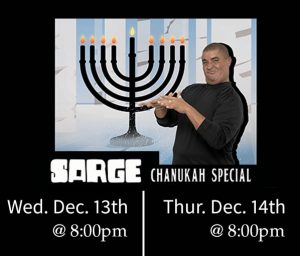 * SARGE Chanukah Special.
What could be more fitting than a 1/2 Jewish-1/2 Black Delray Beach based Standup Comedian cracking jokes-to celebrate Hanukkah the Jewish holiday which commerates the rededication of the Holy Temple in Jerusalem at the time of the Maccabean Revolt against the Seleucid Empire!
If you haven't yet- seen national touring headliner comedian Sarge, go see him!
The "clean" working Sarge, sells-out wherever he performs!
Outrageously- funny guy!
The Skinny:
SARGE Chanukah Special
Wednesday- December, 13th (8pm) and Thursday- December, 14th (8pm)
Boca Black Box
8221 Glades Road #10
Boca Raton, Florida 33434
Box Office: 561.483.9036
Tickets: bocablackbox.com – check goldstar.com for discount tickets
from goldstar.com
A true triple-threat, comic-singer-pianist Sarge is an all-around entertainer known for his wry sense of humor, spot-on impressions and exceptional piano skills. Now you can enjoy all-new material just for Hanukkah, along with music performed with the chutzpah Sarge is known and loved for as The Chanukah Chutzpah Tour makes its way to the Boca Black Box in Boca Raton. Before becoming a stand-up, Sarge wrote, produced and performed for Fox's Best Damn Sports Show Period and worked for ABC Wide World of Sports and CBS Sports. During his comedy career, he's opened for musicians such as Aretha Franklin, The Beach Boys and Wayne Newton, and was featured in the Garry Marshall comedy New Year's Eve.