Trader Joe's Soft Black & Soft Strawberry Licorice Twists (Trader Joe's- Boca Raton)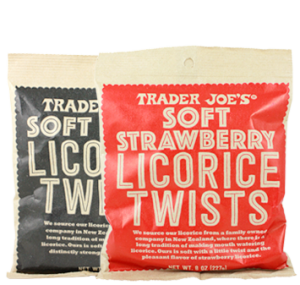 ***** Trader Joe's Soft Black & Soft Strawberry Licorice Twists.
Real quick story for you guys…
Yesterday, Jeff Eats came across these Trader Joe's Soft Black & Soft Strawberry Licorice Twists $2.49-packages while shopping at the Trader Joe's, 855 South Federal Highway, Boca Raton, Florida 33432, (561) 338-5031 and I gotta tell you guys, real good stuff! Not sure whether it's a psychosomatic-thing, a black only-thing, a strawberry only-thing, or a strawberry & black combination-thing, but Jeff Eats has found a delicious Ex-Lax replacement! Anyway, I gotta be running, but I'm thinking, I may have told you guys stuff you didn't need to know!
You can check traderjoes.com for Trader Joe's locations/info.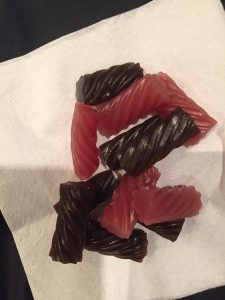 from traderjoes.com
We had a feeling you've been dying to know more about licorice, so we've pulled together some fun facts…
The licorice plant, a perennial herb, belongs to the pea family. There are 20 different species of the plant that grow on five continents. The sweet substance, glycyrrhizin, in licorice root is fifty times sweeter than sugar. And, finally, Trader Joe's now sells Soft Licorice Twists!
The perfect licorice is hard to come by—it should be soft yet chewy, and made with real licorice root. Thanks to a small, family-owned business in New Zealand, this is exactly that.
Our Black Licorice Twists are made with molasses, licorice root extract, and natural flavor from aniseed oil. The combination of both licorice extract and anise create the decidedly strong, ideal black licorice flavor—simultaneously sweet and herbal.
Our Strawberry Licorice Twists are made with natural strawberry flavor, licorice extract (a rare ingredient to find in strawberry or other red fruit-flavored licorice candies), and colored with naturally available fruit and vegetable juice concentrates.
To top it off, our licorice supplier has developed the perfect method of cooking and cooling licorice, so the pieces are soft and stay soft without the use of preservatives.
Yet another fun fact about our Soft Licorice Twists: they're delicious at any time and in any place! Bring a bag to the next movie you see or toss it in your workbag for a midday pick-me-up. Our best suggestion, though: snack on a handful any time you please!
At $2.49 for eight ounces, pick up a bag of Soft Black Licorice Twists or Soft Strawberry Licorice Twists and revel in the soft, chewy, flavorful candy pieces—all the while knowing so many interesting facts about them.