Rise Biscuits & Donuts (Coral Springs)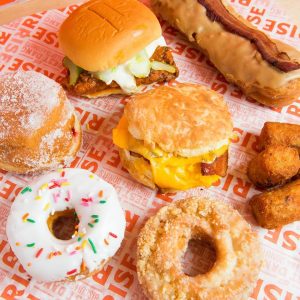 ***** Rise Biscuits & Donuts, 2764 University Drive, Coral Springs, Florida 33065, (954) 314-8682.
Got a joint that you guys may want to checkout- Rise Biscuits & Donuts scheduled to open in Coral Springs this coming Saturday, December, 2, 2017 (7am-2pm)!
Jeff Eats' very dear friend, Nick lives in Durham, North Carolina. For the past several years, he has been telling me- actually he's been raving about a fast food biscuit/donut chain- named Rise Biscuits & Donuts which supposedly makes off-the-chart delicious donuts, biscuits, sandwiches and salads!
Checking Rise Biscuits & Donuts' website (risebiscuitsdonuts.com) Jeff Eats found- that Rise currently has 1- Texas location, 1- Georgia location, 1- Virginia location and 10- North Carolina locations. I also found a list of "Coming Soon" locations and like I said 2 seconds ago- a Coral Springs' location is set to open this coming Saturday!
Checking YELP and other review sites, Jeff Eats found tons and I do mean tons of positive comments about Rise Biscuits & Donuts!
You guys now know about- as much as Jeff Eats does about Rise Biscuits & Donuts- with that in mind, next week Jeff Eats is going to checkout the Coral Springs' location- followed by my take on the joint!
You guys can check Rise Biscuits & Donuts' website risebiscuitsdonuts.com for locations/ menu/ info.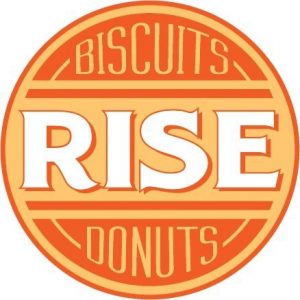 from risebiscuitsdonuts.com
SERVING THE BEST DANG BISCUITS & DONUTS
We opened Rise in Durham in 2012 with a simple vision…serve great food at an affordable price point, made with premium quality ingredients by people who care. In other words, not your typical breakfast spot! Since then, we've expanded to eleven locations in North Carolina, locations in Texas, Virginia and Georgia, and new stores on the way.
Rise serves biscuits, donuts and sandwiches from 7am-2pm every day, waitstaff-free and with a swift service line. We've got fresh coffee, juices, and milk for you to enjoy while you wait.
At breakfast time, we offer unique biscuit sandwiches featuring everyday favorite fillings like our buttermilk-brined fried chicken, crispy bacon, salt-cured ham and country sausage topped with egg, cheese, and spreads. Come lunchtime, the menu shifts to sandwiches on a potato roll, including our righteous chicken, Savory Buffalo Chicken with house-made buffalo sauce, shaved celery and blue cheese sauce, and limited time offerings like the Cubano with roast pork loin, smoked ham, Swiss cheese, pickles and mustard. Yeast and cake donuts are available throughout the day and feature unique flavors like the Maple Bacon Bar and Crème Brulee.
Rise is about more than just crave-worthy food. We're indebted and committed to our customers, employees, and community. We are proud of our company culture and care deeply about the community that has grown up around our food. We love involving customers in the process, and hearing about what you like and don't like. Talk to us, we'll respond.
Everything at Rise is prepped and cooked fresh daily, so donuts and biscuits sometimes sell out and are subject to change. Come early!