Jay & The Americans- Live At The Lyric Theatre (The Lyric Theatre- Stuart)
This article first appeared on 8/26/17. Jeff Eats just checked The Lyric Theatre box-office (lyrictheatre.com) and there is a very small handful of tickets left for both 11/12/17's 4pm & 7pm shows. So- if you wanna go and don't yet have tickets, you'd better get busy on the ticket front!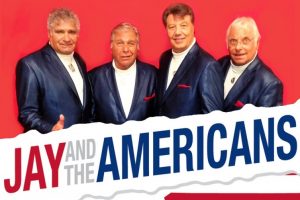 Posted on August 26, 2017.
* Jay & The Americans.
Trust Jeff Eats, not good, but great!
Just announced…
from poprockdoowopp.com
Jay & The Americans- Live At The Lyric Theatre
Sunday, November 12, 2017 at 4:00 PM & 7:00 PM
The Lyric Theatre
59 SW Flagler Ave
Stuart, Florida 34994
Box Office: (772) 286-7827
Online Tickets: lyrictheatre.com
Shows at 4:00 PM and 7:00 PM. Tickets are currently on-sale for Lyric Theatre members only or groups of 10 or more. Tickets go on sale to the public on 9/5/17. Call 772-286-7827 for tickets.
With a staggering 18 charted hits and five Top 10 records, few bands ever reached the heights of Jay and the Americans. The group has been experiencing a resurgence in their popularity over the last several years after re-forming with 3 original members and returning to stages all over the country. Their music has been featured in countless movies, TV shows and commercials including the summer blockbuster "Guardians of the Galaxy Vol. 2" and on November 12, you'll get to hear all of their greatest hits live. The group tore up the charts from 1962 into the early 70s with hits such as "Only in America", "Cara Mia", "Come a Little Bit Closer", "Some Enchanted Evening", "Let's Lock the Door", "This Magic Moment" and "Walkin' in the Rain" (to name a few.) In 2002, Jay and the Americans were inducted into the Vocal Group Hall of Fame, placing them among the greatest vocal groups in Rock and Roll history. Don't miss this all-American rock and roll revival with the band that carried the American flag through the British Invasion and is still selling out theaters today.
Presented by Pop, Rock & Doo Wopp Live! / Praia Entertainment Group.
Call 772-286-7827 for tickets.
Online Tickets: lyrictheatre.com.