Sinatra To Soul…The Chris Thomas Band (Boca Black Box- Boca Raton)
* Sinatra To Soul…The Chris Thomas Band.
Jeff Eats and Mrs. Jeff Eats have seen The Chris Thomas Band in action- trust Jeff Eats on this one, 2 hours of non-stop dynamite entertainment!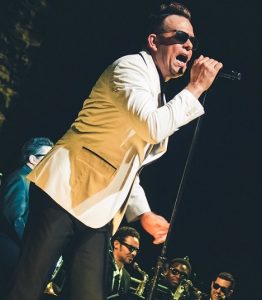 The Skinny:
Sinatra To Soul…The Chris Thomas Band
Saturday Night, December 16, 2017 (8pm)
Boca Black Box
8221 Glades Road #10
Boca Raton, Florida 33434
Box Office: 561.483.9036
Tickets: bocablackbox.com goldstar.com (discount tickets)
from goldstar.com
When Chris Thomas takes the stage, he does not just sing, he aims to embody the "swagger" and style of Dean Martin, Sammy Davis and Frank Sinatra, showing off his 30 plus years of professional dancing experience with every tap of his foot. Horns, rhythm section, guitar and keyboard ablaze, he lifts audiences out of their chairs. Florida Times Union, 7/20/17
Fresh off their SOLD OUT London tour, The Chris Thomas Band is bringing collaborations like Basie and Sinatra back bigger and better than ever before to audiences all over the world. Chris Thomas is an exciting entertainer fashioned in the way of the great performers of years gone by. Chris has the style and "swagger" of Sinatra and the performance excitement of James Brown and Bruno Mars. A professionally trained and competitive dancer, Chris combines dance, vocal, and the best musicians to deliver an unforgettable performance.
The Sinatra to Soul tour features the sounds of Frank Sinatra, Dean Martin, Sammy Davis Jr, Bobby Darrin, Nat King Cole through current artists such as Harry Connick Jr. and Michael Buble. The Chris Thomas Band horn section will have you dancing in your seats with soulful sounds of James Brown, Stevie Wonder, The Temptations, Ray Charles, Earth Wind and Fire and so much more!
Do not miss this amazing performance of Sinatra to Soul that leaves audiences with smiles on their faces and music in their hearts!