On The Roxx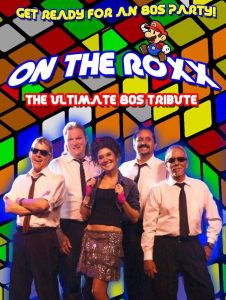 * On The Roxx.
A recent e-mail received by Jeff Eats…
Jeff,
Maybe you can help our Home Owner's Association with finding a terrific local 80's tribute dance band for an upcoming date in late January, 2018. Our community is located in Palm Beach Gardens and we expect to draw between 250-300 to the indoor event which will also feature a large themed buffet.
Any help that you can give us will be greatly appreciated.
Thank You,
John Davidson
__________
John Davidson,
Got the perfect band for you…On The Roxx.
Jeff Eats and Mrs. Jeff Eats have been- fans of the band for years. We've seen On The Roxx something like 7 times and every appearance was absolute-dynamite!
Thanks for reading,
Jeff Eats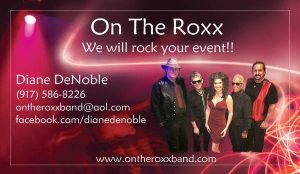 Posted on January 18th, 2012
***** On The Roxx *****
If you like '80's' music, you absolutely positively got to check out- On The Roxx–a local 5 piece South Florida band which is developing a huge following. Recently caught them at Boston's On The Beach in Delray Beach–and I am telling you, they are dynamite. Checkout www.ontheroxxband.com for schedule/videos.
Like I said before DYNAMITE…some of the best covers of Katrina And The Waves, Joan Jett, The Go Go's, Rick Springfield that I have ever heard. The band has two terrific frontmen–Jack James and Diane DeNoble…they'll have you believeing that the original artists are in the house.
Just so you know, over the next 3 months the band has 4- free-public appearances set to go…1 in Coconut Creek, 2 in Port Saint Lucie and 1 in West Palm Beach.
Do yourself a solid and catch them, you'll have a great time.