Win A $20 Trader Joe's Gift Card
This contest started on 9/29/17. This contest has a winner.
* Win A $20 Trader Joe's Gift Card.
Jeff Eats got a $20 Trader Joe's Gift Card to give to one of you guys…
The game- the first 25 "reader-comments" received – will be entered in a "blind hat pick"! You can submit as many comments as you'd like but- Please, only 1- reader comment – per day…play fair!
The $20 Gift Card is good at any Trader Joe's location (traderjoes.com for locations, info).
______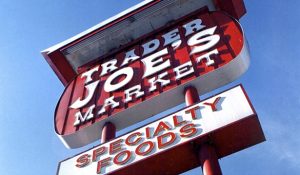 from traderjoes.com
Our Story
It all started in the 50s… Would you believe we started out as a small chain of convenience stores? It's true. Way back in 1958. We were called Pronto Markets. In '67, our founder, the original Trader Joe, changed our name (yes, to Trader Joe's) and the way we do business.
We made the stores bigger (if you can imagine), decked the walls with cedar planks and donned our crew in cool Hawaiian shirts. Most importantly, we started packaging innovative, hard-to-find, great-tasting foods under the "Trader Joe's" name. That cut our costs and saved you money. Still does. And that's important, because "Value" is a concept we take very seriously. And by 'Value,' we mean great everyday prices on all of our great products — no sales, no gimmicks, no clubs to join, no special cards to swipe… How do we do it?
We buy direct from suppliers whenever possible, we bargain hard to get the best price, and then pass the savings on to you.
If an item doesn't pull its weight in our stores, it goes away to gangway for something else.
We buy in volume and contract early to get the best prices.
Most grocers charge their suppliers fees for putting an item on the shelf. This results in higher prices… so we don't do it.
We keep our costs low — because every penny we save is a penny you save.
It's not complicated. We just focus on what matters — great food + great prices = Value.
Okay, we skipped over a few milestones, but you can catch them in the Trader Joe's Timeline. It's a trip.