The Carhop Classic (Sonic- Greenacres)
***** The Carhop Classic.
Jeff Eats just (1:30pm) "did" a $2.99 Carhop Classic at Sonic, 6250 Lake Worth Road, Greenacres, Florida 33463, (561) 965-3800 and I gotta tell you guys that it was $2.99 well spent!
The Carhop Classic proves- that you don't have to go for your lungs to eat good!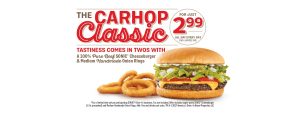 Sonic pairs its cheeseburger (normally priced at $3) with an order of onion rings for the new Carhop Classic meal deal for $2.99. Sonic's cheeseburger includes a quarter-pound beef patty, sliced tomatoes, chopped onions, shredded lettuce, cheese, crinkle-cut cheese and a choice of mustard, mayo, and/or ketchup on a toasted bakery-style bun. Sonic's onion rings are breaded and handmade daily. For you guys not into onion rings, some locations will substitute medium fries or Tots for onion rings upon request. You can find the value-priced special at participating locations for a limited time.
You guys can check menu/prices/locations/info at sonicdrivein.com.