Avi Hoffman's Too Jewish? (Boca Black Box- Boca Raton)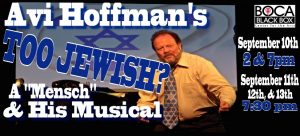 * Avi Hoffman's Too Jewish?
For years, Jeff Eats and Mrs. Jeff Eats have heard nothing but terrific things about Avi Hoffman's Too Jewish? show!
Jeff Eats and Mrs. Jeff Eats just picked up 2 tickets for the Wednesday 9/13/17 (7:30pm) performance.
The Skinny:
Avi Hoffman's Too Jewish?
Sunday, 9/10/17 2pm & 7pm
Monday, 9/11/17 7:30pm
Tuesday, 9/12/17 7:30pm
Wednesday, 9/13/17 7:30pm
Boca Black Box
8221 Glades Road, Boca Raton, Florida 33434
Box Office:(561)483-9036
Tickets: bocablackbox.com goldstar.com (discount tickets)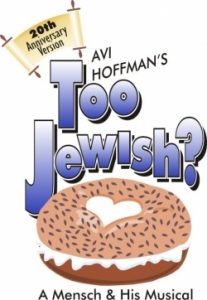 from bocablackbox.com
Avi Hoffman's Too Jewish?
In "Too Jewish?", Avi Hoffman begins the exploration of his Jewish roots, and now that he has had over two thousand performances nationwide, he has discovered that audiences throughout North America can identify with the humor and music of his upbringing. Jews and non-Jews alike, laugh and cry with Avi, as he takes them on a journey through his history, relating stories of his family's immigrant background and the culture within which he was raised. He has discovered the "lost treasures" of Jewish comedy and music. He has found the songs and comedy routines that entertained hundreds of thousands of people from the Catskills to Miami Beach, from Carnegie Hall to Yiddish Vaudeville.
Avi introduces performers, that were thev biggest stars of the 40s, 50s, and 60s, whose jokes, stories, and songs served as a bridge between the old world and the new, and are now completely unknown to contemporary audiences; only vague memories to those who lived through that era. he re-creates the persona of the great grandfather of stand-up comedy, the Jewish Vaudevillian Menashe Skulnick.
Avi Hoffman recreates and rediscovers the wonderful music, comedy, and pathos of the extraordinary period of creativity that began with the immigrants and continued with their children. A time that was to become the breeding ground for the great comedians of our time- Henny Youngman, Milton Berle, The Marx Brothers, Rodney Dangerfield, Mel Brooks & Carl Reiner, Woody Allen and the hundreds of others that were influenced and inspired during those years.
This award winning performance was taped live at the Westside Theatre in NY, and has received critical acclaim nationwide.