Mayweather vs McGregor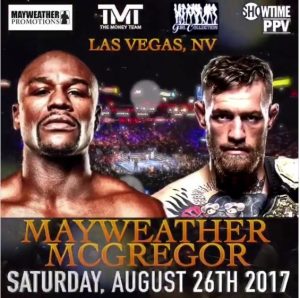 * Mayweather vs McGregor.
All things being equal, Mayweather should knock-out McGregor in the first round of tonight's boxing match!
That said, with Mayweather getting something like $400 million and McGregor getting something like $100 million- these two guys just may "fix" the scheduled 12 round fight to go a good handful of rounds more than it legitimately should- so the viewing paying public doesn't get pissed off by a quick knockout for their money! Also Jeff Eats wouldn't be a bit surprised with a "controversial" ending-which would setup a future rematch!
Like I said before, all things being equal, Mayweather considered by many to be the greatest pound for pound professional boxer of all time, should easily knock-out mixed martial arts fighter McGregor who has never been in a professional boxing match in the first round…then again Hillary Clinton was "suppose" to annihilate Donald Trump in the 2016 Presidential Election!