Sal Richards (Boca Black Box)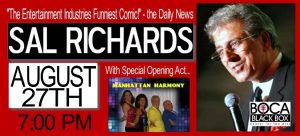 * Sal Richards.
Jeff Eats just picked-up 2 tickets to see the legendary stand-up comedian Sal Richards who is set to headline the Boca Black Box tomorrow night, Sunday, August 27th (7pm). Manhattan Harmony- one of South Florida's best doo wop groups opens for Richards!
Trust Jeff Eats- Richards who works clean, puts on a great show!
The Skinny:
Sal Richards
Sunday Night, August 27. 2017 (7pm)
Boca Black Box
8221 Glades Rd #10, Boca Raton, FL 33434
Box-office: (561) 483-9036
Tickets: bocablackbox.com goldstar.com (discount tickets)
from bocablackbox.com
WHO IS HE: Showbiz veteran Sal Richards was called "one of the funniest guys in show biz" by the N.Y. Daily News. The Brooklyn native also was voted as the "Entertainment Industry's Funniest Comic" by the New York Friars Club. Richards has been a mainstay in both Las Vegas and Atlantic City for years and also has appeared in several movies including "Out for Justice" and "Rounders." His television credits include "The Sopranos," "Law & Order: CI" and "Bachelor Life."
WHAT TO EXPECT: Sal Richards' sharp wit and excellent singing voice are always the main highlights of his shows. The show business veteran has been performing on stages throughout the country, and has always been an Atlantic City favorite. Anyone planning on taking in one of Richards' shows look forward to an evening of laughter.