DISH OF THE WEEK (Sunday- 8/20/17- Coffee District- Delray Beach)
***** DISH OF THE WEEK (Sunday- 8/201/17- Coffee District).
One of Jeff Eats favorite menu items…
KARAOKE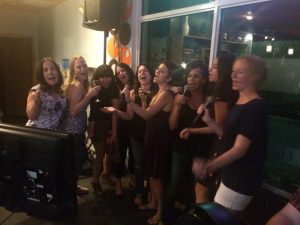 Coffee District
325 Northeast Avenue
Delray Beach
(561) 455-0541
mycoffeedistrict.com
Latest Review: 8/10/12
Trust Jeff Eats- when I tell you that Steve Perry's vocals are no match for Jeff Eats' Journey covers!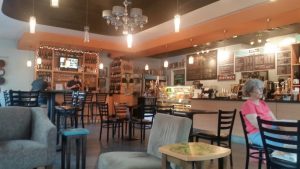 Posted on August 10th, 2012
***** Coffee District, 325 Northeast Avenue, Delray Beach, Florida 33444, (561) 455-0541.
Let's describe Coffee District as…a 1600sq foot Starbucks type joint with a full boat of wines & beers– breakfast sandwiches, pastries, panini, salads and karaoke starting at 8pm every Friday night.
At this stage of this game check www.mycoffeedistrict.com for menu/prices/events/photos.
As many of you guys know–as hard as I try–Jeff Eats still can't get his "head" around the concept of a $4-5 cup of coffee…I still remember Brooklyn's Garfield Cafeteria's 5 cent-cups —and yes, I know that Rudy Vallee is dead, that Maris hit 61 homers, that Roger Clemons didn't use steroids and that gas isn't 29 cents a gallon. Let's just say, that some things just die-hard.
Anyway…last week I gave Coffee District a shot and I gotta tell you this hybrid coffee-wine & beer concept is very interesting. You coffee drinkers, wine drinkers and beer drinkers will be like foxes in a hen house…the joint has all kinds of coffees, wines, tap and bottled beers. For the "eaters" like me Coffee District's got a handful of- breakfast sandwiches, pastries, panini, salads, appetizers…not a huge selection, but I will tell you, that the roast beef panini, bacon cheddar flat bread melt, grilled chicken pesto panini were delicious…with a special shout-out to that flat bread melt.
Just so you know…One of the highest compliments that Mrs. Jeff Eats has every paid me and I quote…"You eat like a reincarnated truck driver."
With "truck driver" being the operative words here—Jeff Eats' game really is- big greasy burgers, french fries covered in ketchup, pizza, beer battered onion rings, pan fried dumplings, bbq ribs, glazed donuts…not- sitting on a couch nursing a cup of coffee or glass of wine, wi-fiing away, waiting for amateur singers to take center stage. That said, I do appreciate when a CONCEPT is well executed and Coffee District absolutely-positively has the "local non chain-coffee/wine/beer relaxed neighborhood meeting place" concept down to a tee.
The best way to sum Coffee District up…a really good joint to enjoy a casual cup of coffee, beer or wine—and maybe-even bump into Jeff Eats as he has another one of those bacon cheddar flat bread melts.
For the record, Jeff Eats does a mean version of Journey's "Don't Stop Believin'."
Coffee District is open Monday-Thursday 7am-10pm, Friday 7am-midnight, Saturday 8am-midnight, Sunday 8am-3pm.