Win A $10 Sonic Gift Card
This contest started on 8/13/17. This contest has a winner.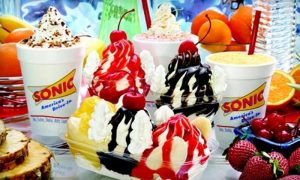 * Win A $10 Sonic Gift Card.
This is a real good one…
Real simple story, Jeff Eats got a $10 Sonic Gift Card to give to one of you guys!
The game- the first 20 "reader-comments" received – will be entered in a "blind hat pick"! You can submit as many comments as you'd like but- Please, only 1- reader comment – per day…play fair!
The $10 Gift Card is good at any Sonic location (sonicdrivein.com for locations, menu, info).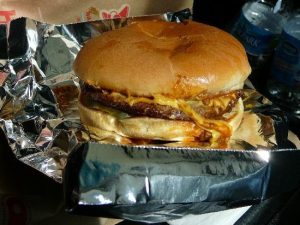 Posted on August 15th, 2013
***** Sonic
Something like 60 days ago, Jeff Eats tried Sonic for the first time. Since that first outing, I've been back 3 additional times….I absolutely love the burgers, fries, onion rings, shakes, soft ice cream, fried chicken and grilled chicken that this fast-food joint serves-up.
Printed below is a "corporate" profile that I swiped from Yahoo Finance–this summary should give you the basics on this 3,500 unit chain that features drive-up service with food-being delivered to your car by a wait-staff on roller skates…think Happy Days, Richie Cunningham, Fonize, Potsie and Ralph The Mouth and you'll catch the vibe.
"Sonic Corp. operates and franchises a chain of quick-service drive-in restaurants in the United States. As of August 6, 2013, the company operated approximately 3,500 drive-in restaurants in 43 states. It also leases signs and real estate. The company was founded in 1953 and is headquartered in Oklahoma City, Oklahoma."
Just so you know, there are a load of Sonic outlets in Florida…for our purposes–there is 1 in Greenacres, 1 in Boynton Beach, 1 in Homestead (Miami Gardens and Lauderhill are currently under construction)…but like I just said, there are a ton of others in the great state of Florida (Mr. Chairman, I have the high honor and great privilege to cast…).
Anyway…
Jeff Eats has been to the Greenacres joint 4 times and I got to tell you, that Sonic really got the job done for me. The food was really good– as was the service and the prices were super reasonable (think Burger King, Wendy's, McDonald's). The menu is gigantic…burgers, fries, onion rings, soft ice cream, shakes, chicken, salads, hot dogs, desserts—best way for Jeff Eats to describe Sonic—imagine if Burger King, Dairy Queen and Chik fil A—merged…that's Sonic!…and the joint is open on Sunday!!!
If you haven't been to a Sonic, GO! You will love it.
Check www.sonicdrivein.com for menu/locations/photos.