Latitudes Restaurant (Highland Beach)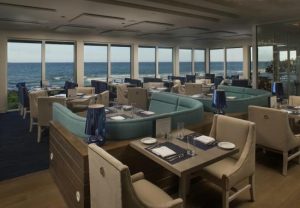 ***** Latitudes Restaurant, 2809 South Ocean Boulevard, Highland Beach, Florida 33487 (561) 278-2008.
Jeff Eats first told you guys about Latitudes Restaurant on 9/15/09.
For our purposes, we're gonna call this "tale" A PUBLIC SERVICE ANNOUNCEMENT- Latitudes is an absolute must try American-Style breakfast/lunch/dinner joint! Outrageously delicious food, great service, reasonable prices, indoor & outdoor decor/beach views that are absolute off the chart dynamite.
Over the past 8 years, I'm gonna guess that Jeff Eats and Mrs. Jeff Eats have eaten breakfast/ lunch/ dinner at Latitudes something like 25 times (which includes Jeff Eats and Mrs. Jeff Eats' dinner last night- which prompted today's Public Service Announcement) maybe even more! Like I said a couple of seconds ago, the joint is an absolute must try! Just between you guys and Jeff Eats, Latitudes to my way of thinking "is" Florida!- hopefully that makes sense to you!
Latitudes is open 7 days a week 7am-10pm.
By the way, the Holiday Inn mentioned in Jeff Eats' 9/15/09 story- is now called the Delray Sands Resort!
You can check menu/prices/info at latitudesdelray.com.
Trust Jeff Eats on this one- you can thank me later!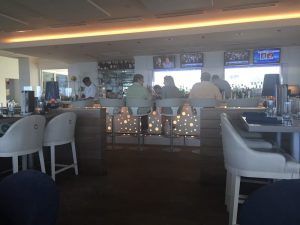 Posted on September 15, 2009
***** Latitudes Restaurant, 2809 South Ocean Boulevard, Highland Beach, Florida 33487 (561) 278-2008.
I am now going to tell you about an absolutely terrific "American-Style" joint that very few people know about…that is, unless you are a "real local."
Now don't get nervous, but I want you to definitely try—Latitudes Restaurant which is located in the Holiday Inn at Highland Beach. This casual (your shorts/tee shirt ensemble will work well here) restaurant is located right on the Atlantic Ocean Beach and has both indoor and outdoor seating. Like I said, it is real casual…but it is a great looking joint and the water-view is amazing.
Latitudes does breakfast-lunch-dinner. Just so you know, this isn't some-junky overpriced "in-house" hotel restaurant. I have eaten numerous lunches and dinners and I rate Latitudes right up there with some of the best casual-American Style joints in South Florida.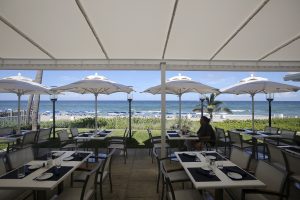 Latitudes' lunch-dinner menu is loaded with moderately priced appetizers, salads, sandwiches, burgers, meat-seafood-chicken entrees. I am telling you, that its… French onion soup, sauteed yellowtail snapper, shrimp scampi, broiled pork chops, bacon cheeseburger, grilled chicken caesar salad, crab-lobster cakes are top-notch.
This one is an absolute must try…Don't let the "in" the Holiday Inn address scare you off.
Latitudes is open for breakfast, lunch and dinner 7 days a week.