The Addams Family (Boca Black Box- Boca Raton)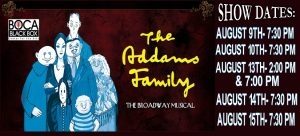 * The Addams Family.
Simple tale to tell you guys, a couple of years ago, Jeff Eats and Mrs. Jeff Eats saw the musical comedy The Addams Family at the Sol Theatre in Boca Raton- and loved every minute of it!
The "show" is currently booked for a limited run- at the Boca Black Box in Boca Raton.
Go see The Addams Family- you will really enjoy this hip-funny musical comedy!
The Skinny:
The Addams Family
Limited Run: 8/9, 8/10, 8/13, 8/14, 8/15
Boca Black Box
8221 Glades Road, Boca Raton, Florida 33434
Box Office:(561)483-9036
Tickets: bocablackbox.com goldstar.com (discount tickets)
from bocablackbox.com
Everyone's favorite creepy clan The Addams Family hits the stage with a macabre musical that's so hilarious it's scary. Gather around the family mansion and watch Morticia and Gomez wrestle with a nightmarish turn of events. Their daughter, the ever-precocious Wednesday, has done the scariest thing imaginable — she's fallen in love with an average, run-of-the-mill boy. What's worse, she wants her freaky family to pretend to be "normal" for one night to impress her new boyfriend's parents. Watch what happens when Pugsley, Grandmama, Uncle Fester and Lurch put their own horrific spin on hospitality. Inspired by Charles Addams' iconic comic strip and featuring a script written by Marshall Brickman and Rick Elice (Jersey Boys), this family-friendly production of the Tony-nominated musical lurks into the Boca Black Box.