Groupon: Steak 'n Shake $10 for $20 eGift Card
* Groupon: Steak 'n Shake $10 for $20 eGift Card.
Hey! 10 bucks is 10 bucks!
Jeff Eats just picked up a 20 eGift Card at groupon.com.
If you want to buy one- groupon.com.
Check steaknshake.com for menu/prices/locations/info.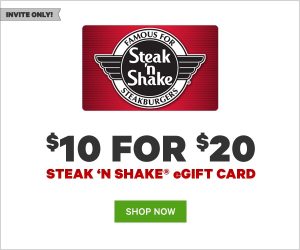 What You'll Get
The Deal:
$10 for $20 Steak 'n Shake eGift Card
Steak 'n Shake
After 77 years, we are continuing Steak 'n Shakes tradition of serving the country͛s best, freshest, and tastiest burgers and shakes. Your friends, family and co-workers will be delighted to receive the gift of Real-Steak Steakburgers™, Real-Milk Milk Shakes, and everything else on our full menu. The perfect gift is easy and convenient to give. Our gift cards can be used at any Steak 'n Shake®, anytime.
The Fine Print
Limit 1 per person. The full value of the Steak 'n Shake eGiftCard never expires. FINAL SALE; no returns. For questions regarding this offer, please contact Groupon. Not valid with Groupon promo codes. Invite only. See full terms and conditions. Merchant is solely responsible to purchasers for the care and quality of the advertised goods and services.
About Steak 'n Shake
Steak 'n Shake
steaknshake.com