Win A $25 ROK: BRGR Gift Card (Miami, Hallandale Beach, Fort Lauderdale, Delray Beach)
This contest started on 7/23/17. This contest has a winner.
* Win A $25 ROK: BRGR Gift Card.
Jeff Eats got a $25 ROK: BRGR Gift Card to give to one of you guys!
The game- the first 25 "reader-comments" received – will be entered in a "blind hat pick"! You can submit as many comments as you'd like but- Please, only 1- reader comment – per day…play fair!
The $25 Gift Card is good at any ROK: BRGR location. Check rockbrgr.com for locations/menu/info.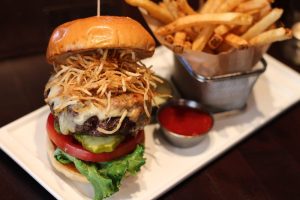 Posted on January 17th, 2011
***** ROK:BRGR, 208 Southwest 2nd Street, Fort Lauderdale, Florida 33301, (954) 525-7656.
Let me start by saying, that I loved ROK:BRGR—an upscale hamburger joint, which opened about six weeks ago in Fort Lauderdale. I suspect, that Only- seriously committed vegetarians are gonna have a problem with this joint. Check www.rockbrgr.com for menu/prices/pictures.
Just so you know, BURGERS are the primary game at this cool looking- 1920's brick pub decor/full bar joint. That said, ROK also has a "nice" handful of comfort items like mac 'n cheese, chili, meatloaf, blts and a few salads, so no-one in your party is gonna be pissed off.
My 10 oz. bacon cheeseburger with hand cut french fries ($10) was absolutely off the chart. Same, for the mac 'n cheese ($8)–sweet potato fries ($5)–onion rings ($6)–meatloaf ($14) that I "sampled."
I am telling you, the food was delicious. ROK has a real cool look, reasonable prices and the service is as pleasant as can be.
To sum it up, WINNER!!!
ROK is open Sunday-Thursday 11:30 am-2am and Friday-Saturday 11:30am-4am.