Steve Marshall (Boca Black Box- Boca Raton)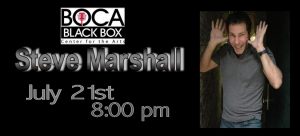 * Steve Marshall.
Hilarious, insightful and brilliant "medium blue" material about growing up Jewish in Brooklyn -and coping with everyday life in general!
The national headlining comedian is in for 1-show, tomorrow night-Friday, July 21st (8pm) at the Boca Black Box in Boca Raton!
If you haven't yet seen Steve Marshall, Go!- you'll love the guy!
The Skinny:
Steve Marshall
Friday, July 21, 2017 (8pm)
Boca Black Box
8221 Glades Road, Boca Raton, Florida 33434
Box-Office: (561) 483- 9036
Tickets: bocablackbox.com goldstar.com (discount tickets)
from bocablackbox.com
New York-based national headlining comedian Steve Marshall plays all the big clubs across the country, and now he's making a stop at The Boca Black Box. He's been featured on national television platforms such as CBS News and CNBC, plus Hot Off the Grill With Bobby Flay and NBC's Dare to Dream. Riffing relentlessly on topics such as his negative Jewish family and why one should never make fun of Chinese people who work in a Chinese restaurant, Marshall's no-holds-barred approach will have you laughing and gasping in equal doses.